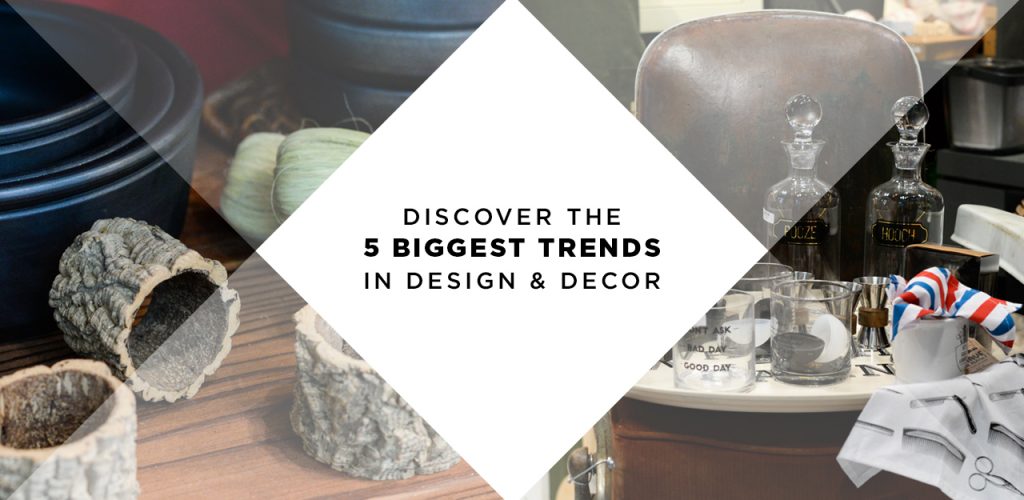 The NY NOW® Winter 2017 market was spectacular. Yet again, buyers from around the globe came to find what was new, next and would resonate with their customers' tastes. This season seemed to represent a turning point in product design. Everywhere we looked, we saw a new focus on sophistication and refinement.
Greater sophistication has led to numerous items across all of our categories to feel more refined and unique, pragmatic and functional, and even more one-of-a-kind. With this new sophistication, color palettes, patterns,  and raw materials are taking pivotal shifts as they are the foundation of any newly created product or accessory. Let's explore the trends found in New York…NOW!
Trend No. 1: Don't Lose Your Marbles
Marble, especially in shades of white and light gray or black, are extremely popular for smaller tabletop goods. Coasters and small bowls are made entirely out of marble while larger wood platters and table features are inlaid with it. Black and white marble has become more than a design material, it is showing up as a fabric pattern. Look out for marble motifs in carpets, wallcoverings, and many fabric options going forward.
Trend No. 2: The Boys Band Together
The focus on the male customer continues to be a key theme with brands. The trend started with the bar cart and home brewing; the focus then expanded to spirits. After that, men's accessories and leather goods started to trend. This market, personal grooming items officially established themselves as the "it" thing to be carrying in stores. The marketplace is saying that a little je ne sais quois is highly desirable. Polished, dapper and a connoisseur? Yes please!

Trend No.  3: Wood They Wonder?
Everyone loves wood; the trends happening with its use are amazing. Wood is now devolving into a more natural, primitive form, making it more minimalistic. In larger furniture pieces, the opposite is happening. We now see cerused woods with limed-wax finishes in dramatic hues of black, "greige," and dark gray. This technique adds color to wood while also revealing its unusual grain.
Trend No. 4: Shiny Metal Object Fixation
Gold is still in but polished brass and bronze are making waves in metallics. From knobs, knockers and drawer pulls to oversized hanging lamps, making a statement with darker metallics is the "IT" thing to do right now. Matte finishes can be found here and there, but it's safe to say let the hardware swapping commence
Trend No. 5: On The Hunt
Animal skins, hides, bones and animal-inspired textures are in. Real or faux, leather hides are being used as an unexpected pop of texture in all areas of the home. Deer, gazelle and water buffalo antlers are being used for chandeliers, light fixtures and as standalone decorating items. Lambskins, wood and hair continue to be woven into throws and pillows. Water buffalo is extremely popular in jewelry.
---
Whether you are a newcomer or a seasoned professional at NY NOW,  the 2017 show was certainly the place to be. It will be exciting and refreshing to see how these trends emerge this year.

Register for NY NOW: HERE   || Apply to Exhibit at NY NOW: HERE