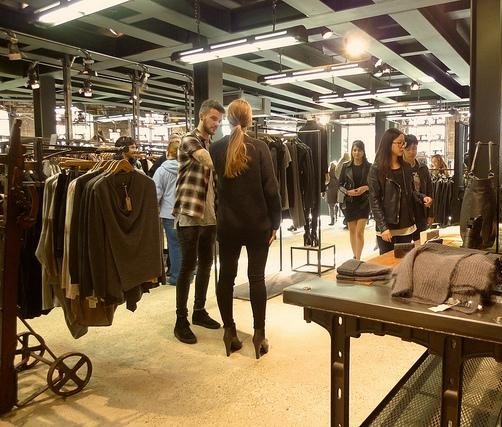 Online Availability Continues to Bring Consumers In-Store
Technology is driving changes in consumer shopping behavior; shoppers still rely on brick and mortar locations to make the majority of their final purchases.
With two decades of e-commerce under our belts, 2015 is a good time for retailers to look at how people are making their purchases. Today, the majority of shoppers put far more consideration into what they buy, using online tools and research to acquire goods they get in physical store locations.
Successfully Serving Digitally Savvy Shoppers
According to a 2014 Cisco study, 80% of shoppers use digital means when shopping. Through the Internet, shoppers are able to educate themselves about everything from material sourcing and brand heritage to product reviews and pricing. This means that retailers must work harder than ever to meet their customers' demands. Digital has a huge impact on shoppers' path to purchase. According to a new PwC study, nearly 40% of consumers make a purchase in-store at least once per week. Of these shoppers, 65% report that they shop in-store to avoid delivery fees, 60% shop in-store in order to receive a product immediately, and 61% choose to shop in-store because they want to see the items in person. There can be many other reasons to shop in-store, including shopping locally, attending in-store events, and receiving personal consultations and information.
Shoppers of All Ages Shop In-Store
Although online shopping can bring increased product selection and convenience to today's consumers, there are many reasons that people choose to shop in-store.
A 2014 study by A.T. Kearney revealed that of 2,500 shoppers — from a cross section of demographic groups, including teens, Millennials, Generation X, Baby Boomers and senior citizens — 90% preferred to shop in brick-and-mortar shops, mainly because "they love going out, shopping with people and touching stuff." Lee Peterson, executive vice president of creative services for WD Partners, states, "Shopping in the stores is much more emotional — you're with your friends, you're listening to music; it's much more human." Consumers' digital savviness and preferences do not indicate the downfall of brick-and-mortar shopping, it is actually showing the evolution and changing role of physical locations.
A 2014 comScore study showed that one third of shoppers prefer to have online orders delivered somewhere other than their homes, and of those shoppers, 26% prefer to pick up in-store. Further, with motivators such as free in-store pickup, 45% of shoppers also made another purchase while in-store. This is another example of how cross channel marketing can drive in-store purchases. With each customer visit to a brick-and-mortar store, the chance of a sale increases. As TechCrunch recently stated, "Online and mobile channels are now being recognized as an enhancement to brick-and-mortar stores, not a detractor." With an attitude like this, the future of retail can make people on both sides of the counter or keyboard happy.
As Jeremy Bergstein, co-founder of The Science Project states, "Retailers often lag behind consumers when it comes to blending the offline and online shopping experiences, but they are working to catch up. By translating the efficiency of the technology into the sensory experiences that trigger social behavior, retailers will find greater success with in-store purchase."
How to Prepare Your Store for Consumer Shopping in a Digital Age

Extensive consumer marketing research serves as a guide on how to optimize stores for shopping today. In the end, getting customers to come in-store and spend time and money comes down to techniques that retailers have used since the beginning of time: inspiration, storytelling, and merchandising.
In order to be successful online and offline, it is important for retailers do these five simple things:
Inspire Your Customers: From the images on your Instagram feed to pins on your Pinterest boards, the first and easiest thing a retailer can do to increase store sales is to inspire their customers. While many big retailers have technologically equipped storefronts, this may not be feasible for smaller retailers, but they can always connect with customers at inspiration points. Use store windows, key displays, and cash wrap areas to tell inspiring stories through the products that you sell.
Curate Your Merchandising Mix: In order to create inspiring stories, you must curate the products on your floor to align to consumer interests. Holiday times are easy; you can easily create product displays for family or friend types. During non-peak shopping times, retailers can get creative, aligning merchandising to fashion or lifestyle trends, as well as adding in interesting features such as limited edition or vintage products.
Design the Store Floor to Meet Consumer Needs: From the moment they enter a store, it is important to make your customers part of your space. Think of their intent. Use what your customers are seeking to inspire your floor plan.
Optimize the Store Layout to Drive Sales: Once you have assessed why people come into your store, make it easy for customers to complete their specific shopping missions. If customers ordered something online for pickup, have it in an easily accessible place where they can retrieve it without interrupting those who may have curiously wandered in. On the flipside, if a customer comes in and wants to make a purchase, but does not want to ship something home, then offer free or deeply discounted delivery (larger items) to complete a sale.
Make the Store Live Up to Digital Impressions: In the end, many people come into your store to see the store itself. Ethan Song, Frank & Oak's founder, says, "A lot of people see Internet as next-generation and brick-and-mortar as being traditional. The way we see it is as a physical space that we can leverage to communicate our brand value." There is no doubt that in-store shopping can offer a multi-sensory experience that e-commerce cannot come close to.
Since shopping is emotional, social and connective, retailers can leverage the need for firsthand experiences to accomplish the steps outlined above. By treating the store as a must-see attraction or key destination, the environment created can be a moment that the visitor never wants to forge.
Always Work on Understanding Your Customer
In an increasingly automated world, customers like to feel special. From online marketing to in-store events, retailers should find ways to provide personalized shopping experiences to their customers. In the end, retailers must understand their customers and what they want:
Retailers should especially note these following three things:
As they are more educated about their purchases, consumers expect retailers to offer quality products and exceptional service.
While online will continue to grow, store purchase will not stop. Retailers should create superb online and brick-and-mortar shopping destinations that match in tone, aesthetics, and brand promises.
Consumers have specific reasons for shopping online and in-store, so retailers should find out how to provide what their customers want from each channel.
While it is hard to say exactly what the future of shopping holds, it is clear that within the next few years, we can expect the same trend to continue. Retailers should work on getting to know their customers and how they shop so they can fulfill their customers' needs. This means that retailers should not only offer the products and services their customers want, but also a presence where there customers are — both online and offline.
---
Want to learn more about what makes shoppers buy? Register to attend NY NOW today and join our education sessions. 
---