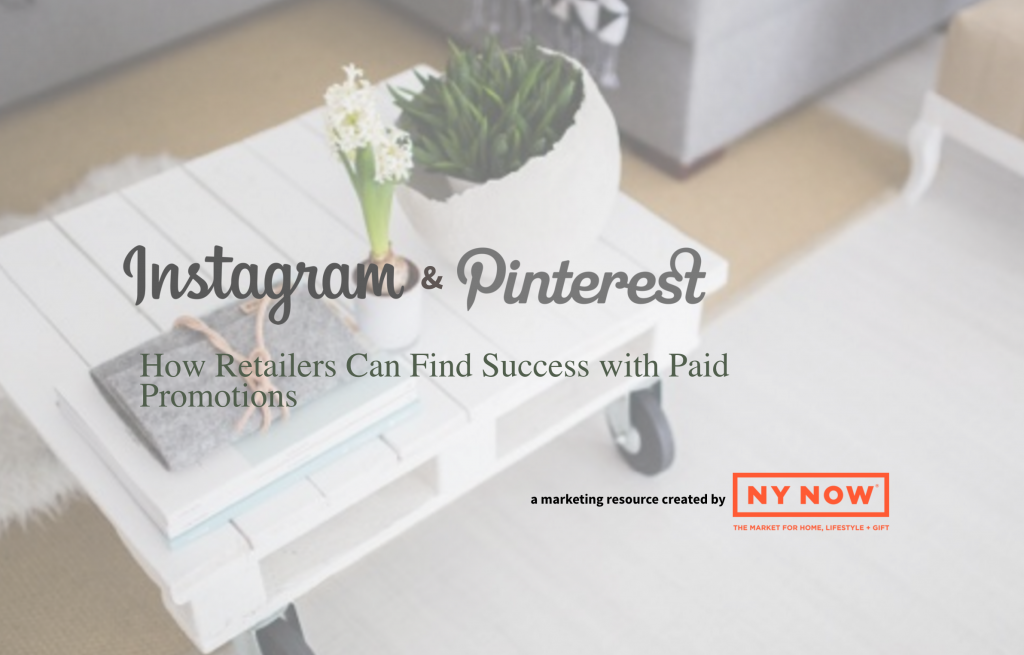 Did you know that each day, we upload 1.8 billion images to the social web? As of today, Instagram has 400 million users and Pinterest has 100 million users. Since their inception, Pinterest and Instagram have been driving the rise of visual culture. It is not surprising to see the growth in visual imagery when you learn that 90% of information transmitted to the human brain is visual and that visuals are processed 60,000 times faster than text.
Pinterest and Instagram are two of the most important marketing tools you can use if you own a retail business that caters to home decor, fashion accessories, or anything design related.  Most likely, your retail business is on Pinterest and Instagram, and you have already gotten a good handle on the best practices for each platform. However, you may be wondering if these platforms can drive more sales, both in-store and online. Pinterest and Instagram are no longer big brand marketing tools; they are for everyone. Now you can use these visual platforms to help –– increase sales.
---

---
Develop a Visual Strategy
Before you embark on selling on Pinterest and Instagram, you will want to develop a strategy. Imagery does more than just sell a product; it creates an impression and image of your store's brand. This perception will heavily influence how a potential customer interacts with you. If your ads are intrusive in their social streams, they will disengage, making it very hard to get back into their stream of consciousness. So, you must develop a good strategy. Here are the three steps to developing a visual strategy:
Think about the story you want to tell.

What story are your images telling? Are they inviting someone into your world in a way that is inspirational, educational, or interesting?

Think about your images.

What do they convey?

Think about your story's takeaway. What message is your viewer, your potential new customer, taking away from your images?

According to Olapic, a platform that curates retailer Instagram images, shares that the images that perforM the best are bright, rich in composition, convey interesting imagery, and have longer descriptions. Consider these points as you develop your image and story strategy.
How to Use Pinterest and Instagram to Drive In-Store and Online Sales
"I think brick and mortar is an amazing opportunity to use stores and staff as a vehicle to truly engage with the community in a way no other retailers are doing," says Jeff Brett, president of West Elm. This belief holds true for any retailer who likes to bring people through their doors. Because of that desire, Pinterest and Instagram are complementary vehicles to help drive in-store holiday and year-round traffic to create multiple streams of revenue.
Here are six steps for success in regards to using Pinterest and Instagram to drive sales:
Continue to Focus on Relationships.

The best stores with the most loyal customers have great service. On Pinterest, repin your followers' images that work on your boards. Let them know that they can always come in and compare something they are interested in or try it out. On Instagram, translate that service to engagement. When you post to Instagram, answer questions and respond to comments.

Leverage Your Location.

For Instagram, not only do you want to hashtag your images for location, but you also want to show local residents and visitors the products you offer. For Pinterest, leveraging their location features on your pin boards will help in this same way. Make sure your images link back to your contact information.

Use Tags Appropriately.

On Pinterest, use your audience terms in your paid promotions to target followers and users that would be interested in your products. If your items are seasonal, make sure they're related to holiday or events people may be purchasing for. Search on Instagram is hashtag based, so by using 3-5 key hashtags, you can help people discover your store or increase interest in your products. It's important to note that people search location hashtags more than any other type.

Feature Customer Images.

If your customer shares a photo of his or her purchase, feature it. This is another area where showing the use and purpose of your items will help drive additional sales.

Utilize Influencers.

Pinterest and Instagram users have a lot of power over their audience's buying habits. Work with local or industry specific influencers to feature products. Do a search on influencer programs before you create them, as there are FTC guidelines that all retailers must be aware of in order to avoid hefty fines.

Run a Contest.

Use contests and promotions sparingly. Shopify

advises

that you choose the right incentive by giving away something people want. That doesn't always mean discounts; it could be a limited edition piece. You can use other forms of advertising, including print ads and email, to drive awareness of your contest, as well.
There are many ways you can use social to drive in-store sales and vice versa. A little research and preparation is all you need to make Pinterest and Instagram work for you. Who knows, you could be as lucky as Fox & Fawn who reports that around 40% of daily store sales now come through Instagram because of the discovery tactics outlined above. Another retailer seeing great results with this platform is Apolis with its Global Citizen and Advocacy campaigns.
For a full understanding on to create Instagram and Pinterest ads, get our step-by-step Guide: DOWNLOAD HERE