Celebrating ten years as a merchant is something to be proud of, and for Astoria based Mackenzi Farquer 2017 marked her tenth year as a self-proclaimed proprietor.
"I opened my first store in 2007 and in 2013 opened Lockwood, which has since evolved in many exciting ways," shares Farquer.
Since Lockwood's first doors opened in 2013, Farquer has opened an additional new Lockwood concept each year. Lockwood Style, Lockwood Paper, Lockwood Jackson Heights and Lockwood Queens Museum are all direct spin-offs of the original Lockwood, which is located on 33rd Street in Astoria, NY. Lockwood is highly regarded as Astoria's premiere lifestyle store, serving Western Queens and beyond. Located just off Astoria's busy Broadway street, the flagship Lockwood charms customers with its classic white and black storefront and colorful interior displays that consists of 1,300 square-feet of chic housewares, stylish accessories, greeting cards and gifts for all ages and all tastes – much of which is discovered at NY NOW, which Farquer has been attending for over ten years.
Discover how one store inspired four more… as well as how busy proprietor Farquer manages it all.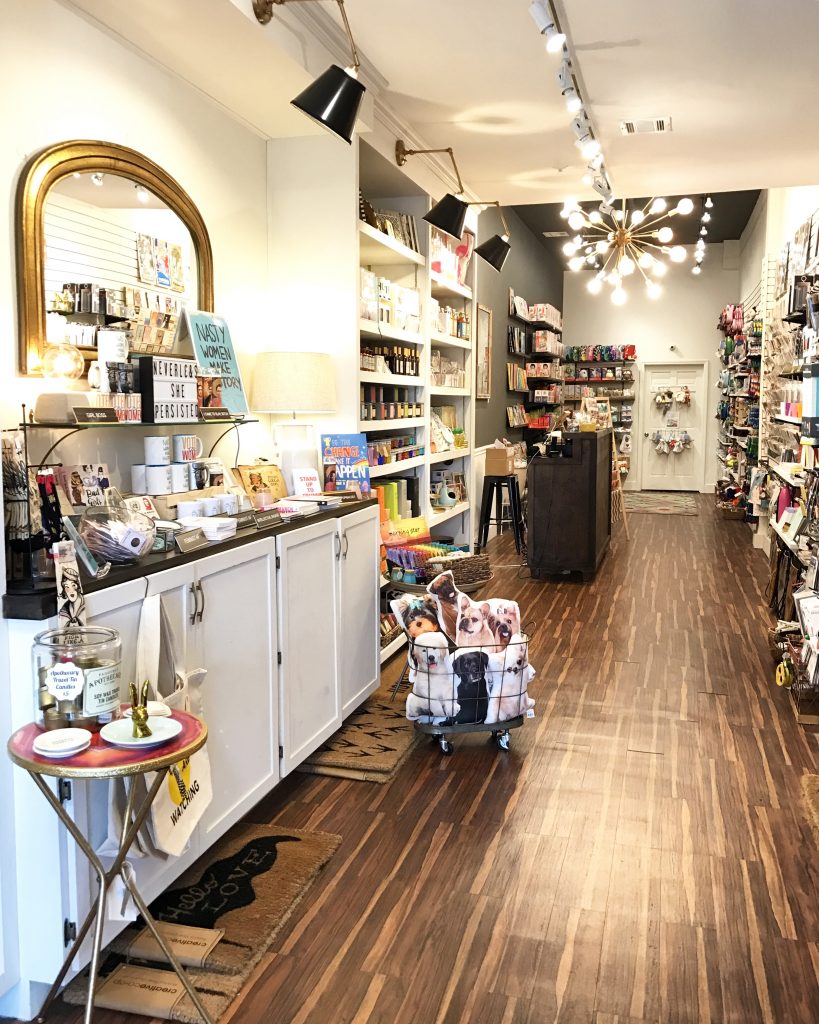 NY NOW Question: Owning multiple storefronts is no easy task. What is your best advice to retailers looking to expand from one store to their second or even more? 
Farquer Answer: There are so many things to consider, including doing your homework. You need to aim to understand why you are wanting to open another store and how you plan on paying for it. This also includes having the appropriate support you will need to make your new store come to life, including making sure that that your existing staff is up for the challenge. Plus, have more money available than [sic] you think you'll need. Never go into a new venture undercapitalized.
Q: That's great advice! Certainly, having a grasp on the financial overhead involved in opening another store is important, as is doing the necessary homework to make sure you're prepared to bring a new store to life. While current staff is undoubtedly a big part of this scenario, as well, what insight can you offer on introducing new employees to this equation?
A: I make sure we have a clear hierarchy at Lockwood, starting from me… then working down to my operations manager, store managers, assistant managers, and key holders. Everyone has a role to play, and they all know what that is and who to turn to when they need advice or guidance. There's always a manager on duty who has the vision for what each staff member should be doing each day based on tasks I've allocated to each store, and having direction in place helps to keep store operations running effectively. Additionally, I have a strategy I refer to as my 'I only hire grown-ups' strategy that essentially means I trust and empower everyone who works with me and in doing that, I hope they rise to the occasion each day. I've been so lucky to find amazing talent and I do my best to keep those star employees well paid and motivated. For many that means better jobs with more responsibilities.
Q: That's a great approach to managing your employees. I'm sure that approach also impacts your store success, just as data does when helping you identify ways to better manage your store. Can you offer any insight on how you apply data into your day-to-day operations?
A: Margin is my everything. After margin, I consistently look at daily, weekly and monthly sales – especially compared to the same data last year. Reviewing cash flow and P&L is part of my data review, as well, and I do this at least quarterly. I also look at sales per category and department to make sure my spending is well allocated based on what my customers are actually buying. Finally, I always review data based on discounts applied, returns received, sales per hour and the average sale at each respective store. Collectively, this data then helps me manage employee scheduling and payroll, as well.
Sounds like data has been a huge asset to you retail management. As has the inventory you buy for your store.
Farquer: Absolutely. For me, NY NOW is my home turf when it comes to inventory. Plus, it's where I met my wife! NY NOW is so many things to me. First and foremost, I've been going for over a decade now. At this point I know the layout like the back of my hand, so new vendors and new products stand out at me. Because it's based in NYC, I'm also able to bring more of my staff than I would to other shows, which helps us narrow in on specific categories and accomplish more buying. I truly can't beat the convenience of NY NOW.
Q: We love that NY NOW was where you met your wife! And that you continue to discover great finds after going for over ten years. What do you find most beneficial for retailers who attend NY NOW? 
A: I think NY NOW is thoughtfully laid out, and that makes it easy to shop the categories you need… as well as skip the ones you don't. It's easy for me and my staff to travel to, plus they keep good hours for us to get the most bang for our buck daily.
Q: Looking ahead to 2018, what trends or expectations do you expect for retailers to gain from? 
A: I think custom and personalized products will continue to be a [sic] huge. I know we spend a lot of our time and resources looking for these types of lines and as we go into 2018 I don't see this changing. I also think you'll see more and more independent lines in stores as platforms like Etsy- it [sic] continues [sic] to creep into our space. Additionally, I think social media will continue to be a huge part of retail marketing and we'll see more and more automation being brought into that part of the job.
Automation is certainly becoming an increasingly important factor for busy merchants like yourself, and we're always excited to hear that independent brands remain relevant in the retail landscape, as well. Thanks for sharing your fantastic insight, Mackenzi, and we look forward to seeing what new retail concept opens next from Lockwood!