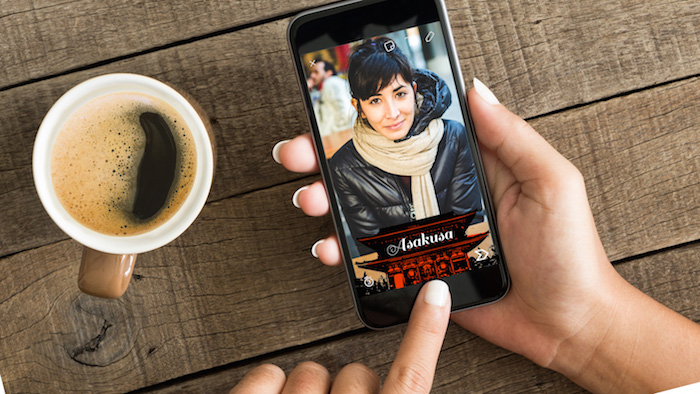 What Is Snapchat?
Did you know Snapchat is the fastest growing social network right now? If you don't already know about the tool, it's a fun photo/video messaging app that allows users to snap disappearing photos and short 15 second videos in real time. Users can send their snaps directly to friends, where they disappear after they're watched, or post them to their Snapchat Story, where they can be viewed for 24 hours by their followers. Snapchat for sure is new territory for most brands, but undeniably offers great possibility.
Snapchat is not only the ultimate social media tool for retailers, it has become the place to be, with an impressive 60 percent of smartphone users in the U.S. aged 13-24 using the app according to AdWeek. Today, the app even earns higher engagement than Instagram which has historically been the leader in the pack.
Chief Executive Officer Evan Spiegel reported in February that the app has more than 100 million daily users who spend an average of 25 to 30 minutes on the app each day. Bloomberg reports that users are watching 10 billion videos a day on the platform up from 8 billion in February 2016. That's a 2 billion lift in daily video views in just two months across its 1.65 billion users. For all you Facebook lovers, that's the same number as Facebook! There's no denying that Snapchat video views are not just increasing, they're soaring. If your business is targeting young people, you may want to take notice.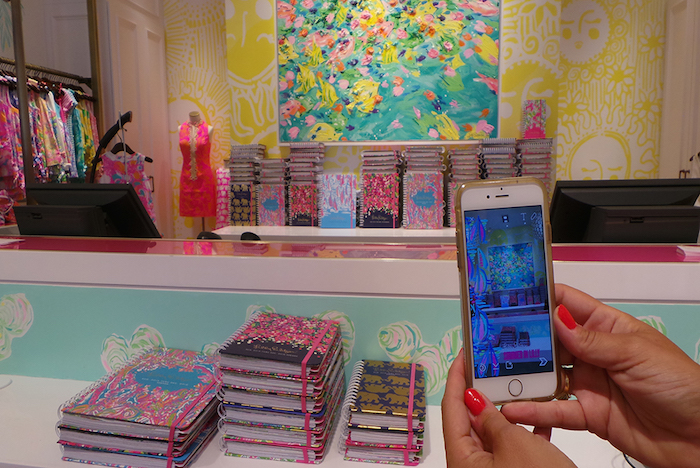 Why and When Retailers Should Use Snapchat
Snapchat is an ongoing obsession for brands and retailers and has become an effective channel for retailers to tap into their customer's thoughts, opinions and buying behavior. Savvy retailers can take advantage of the platform's uses, benefits, and unique features to drive store visits, increase brick-and-mortar and online sales, and even heighten customer engagement. Here's how.
Have a Two-Way Conversation with Your Customers
"People's behavior is changing so that photos are being used as speech instead of a repository for memories." – Robert Peck, Analyst at SunTrust Robinson Humphrey. About 60 percent of daily Snapchat users send content to friends or their stories. This means Snapchat users are already engaging in dozens of conversations a day on the platform. As a retailer, you you can live text, chat and send direct photos and video to your customers and get the same result, if not better results, as a text message. When have we ever had such a close connection to our customers?  
Ask for Customer Feedback
Snapchat is wonderful tool to spark conversation. Within your Snapchat story, think about creating fun snaps that prompt your customers with questions. Do you like the pink or purple curtains? Does this lamp make my room look big? How many throw pillows is too much? Multiple choice questions are fun too. You'll then ask your customers to screenshot their answer, send a direct message, or you can even assign a 'yes' answer with a screenshot.
Build anticipation for new items
Retailers are now using Snapchat to launch highly anticipated items. Burberry recently launched its men's fragrance with a Snapchat scavenger hunt. Tease your customers by showing the in-store arrival of the anticipated item to build hype, excitement, and awareness. You can also offer discounts to those watching your Story at the moment of your reveal. 58% of college students would be likely to purchase a brand's product or service if they received a coupon on Snapchat according to Entrepreneur. That's a huge audience of potential customers.
Build Buzz and Excitement for Your Events
Retail businesses can purchase on-demand geo filters for events and specific locations – like the area around your store. You can use your brand logo, trademarks and branded creative to really encourage customer interaction with your brand. Half the excitement with Snapchat is discovering new geo filters when you're on the move. Head to Snapchat to get started.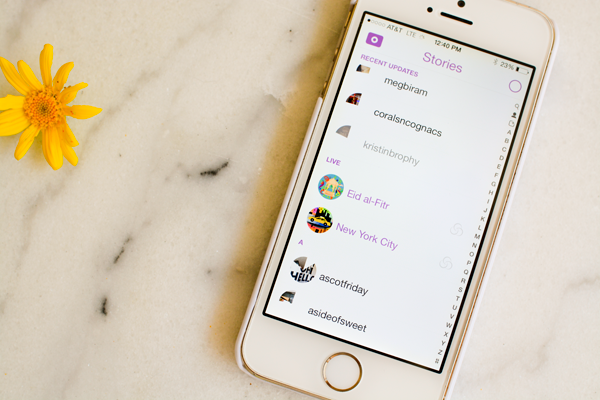 Snapchat Stories
Your Snapchat Story lets you share a photo or video with all your Snapchat friends for 24 hours. Unlike a normal Snapchat photo or video, which you can only view once, Snapchat Stories can be viewed again and again until they disappear 24 hours later. Your Story is where you'll likely spend the majority of your effort in between answering questions from your customers and tallying surveys.
According to Bloomberg, more than a third of Snapchat's daily users create Stories, broadcasting photos and videos from their lives that last 24 hours. Your Story is where you're able to share snippets of your daily life, personality, and brand. Since your content disappears after 24 hours, it's often a hard pill for many brands to swallow due to scarcity of resources and time. Below are a few tips to help ease the leap into your new Snapchat strategy.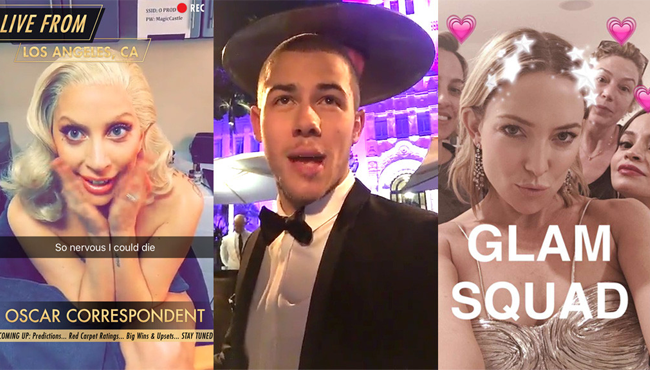 Snapchat Best Practices
Get Creative
Take advantage of Snapchat's benefits and unique features. Use the filters and drawing tools to make your content memorable, fresh engaging enough to keep your customers coming back daily. As mentioned above, you can even create custom branded geo-filters surrounding your store so that when you create content in-store, you can add fun branded overlays.
Go Behind the Scenes
Take your customers behind the scenes to show off the lifestyle component of your brand. Have fun, show off your corporate culture, office digs and daily routines. Everyone is always fascinated to see how other people live their lives. That's why MTV Cribs was so successful for so many years. Take your Snapchat fans with you into your daily meetings, bring them to trade shows, lunch breaks, show off your website and even let them into your personal lives as you head to yoga to unwind. This is a great opportunity to show your fans how different your brand is from your competitors.
Empower Your Customers, Employees & Influencers
Snapchat takeovers are gaining popularity amongst many brands, big and small. Like an Instagram takeover, you will hand over your username and password and let your customers and employees take over creating content for you. Don't worry, you can create a new password for each of your Snapchat guests and also create guidelines. Not only is this a great way to reward your customers, it's also a great way to leverage their network, gain new customers and ease the pressures of creating daily content. One example is if you have multiple store locations, you can have different employee takeovers for each location. Your customers will appreciate the diversity in your content and the bond between the two of you will only grow stronger.
Consistent, Short Content is King
Now that you've empowered your customers, employees and influencers to join the party, creating consistent content should be much easier. Most retailers are averaging around five to seven snaps per day. A recent article in Forbes suggests keeping still photos to a couple of seconds each and your total story compilation to no longer than a minute or two.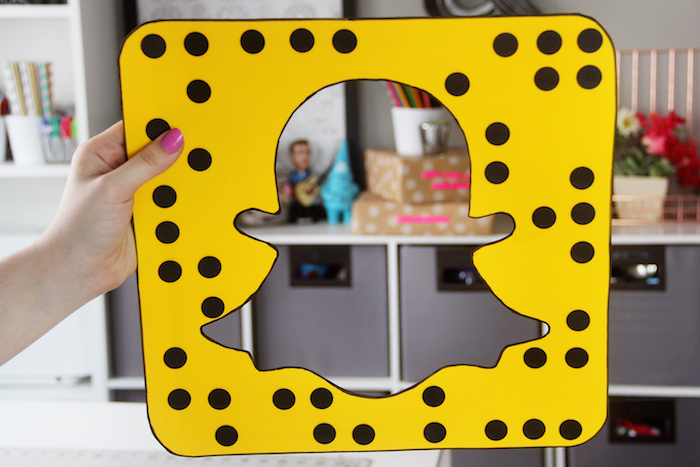 Share Your Personal QR Code
Every Snapchat accounts auto generates a custom QR code as your avatar. Many new users swap their profile photos on their other social media accounts like Twitter and Facebook for their Snapchat avatar. This makes it very easy for your existing followers to find you. Also be sure to add your QR code to your website where it's easy to find and promote it often on your other social accounts. Another tip is to place your code around your store. Not only will your customers learn about your account, they'll have fun hunting down your avatar.  
---
4 Design Accounts To Follow Today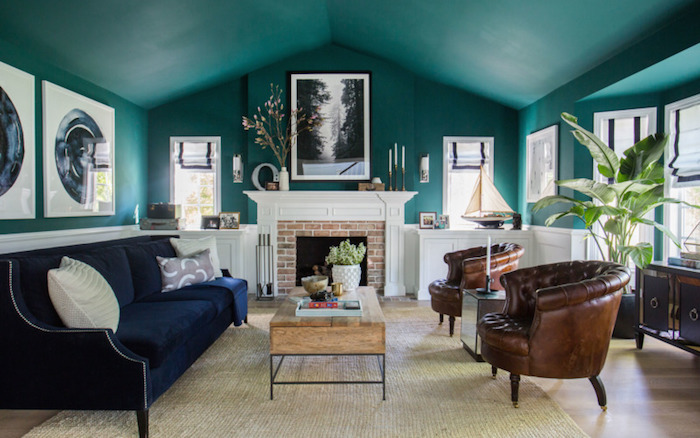 Homepolish (Snapchat: homepolish)
Homepolish represents the country's top, emerging residential and commercial interior design talent and their services are designed to maximize any budget. Their Snapchat helps bring your design fantasies to life through beautiful videos of their latest projects from planning and shopping to furniture installation – celebrities included.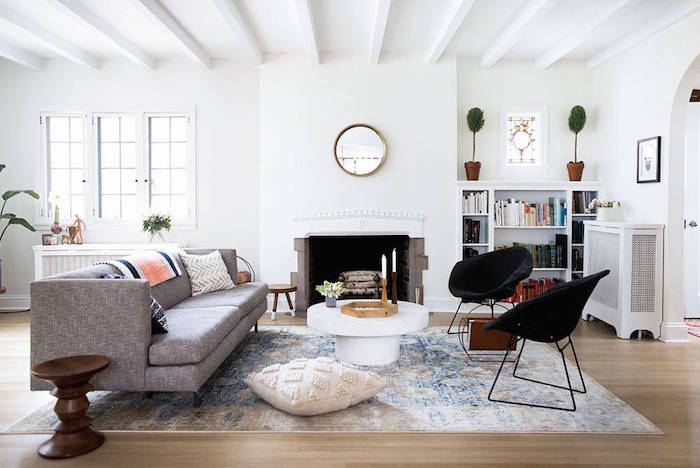 Domino Mag (Snapchat: dominomag)
Anyone who loves great design should follow Domino Magazine on Snapchat. Go behind the scenes of stylish home tours, swoon worthy interiors and grab your daily dose of decor inspiration.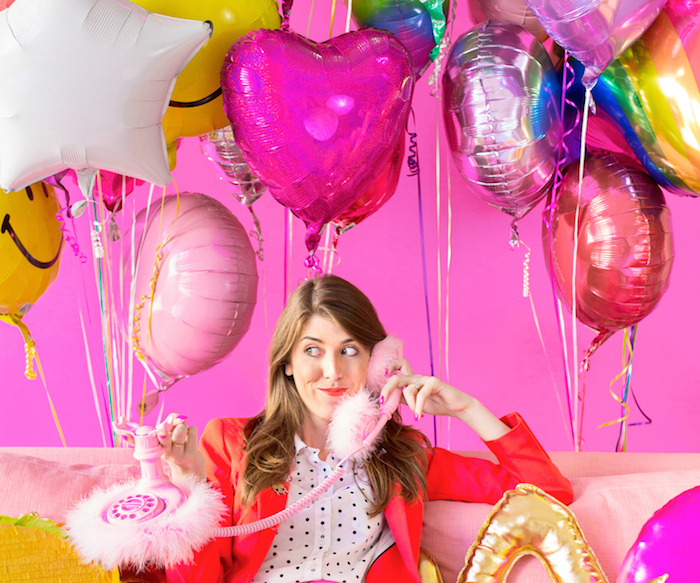 Studio DIY (Snapchat: studiodiy)
Do you love to DIY and laugh? Kelly Mindell of Studio DIY helps bring the spunk to crafting and home decor. On most days, her Snapchat includes crafting on the floor, exploring around Los Angeles with her husband and what it takes to craft for big shots like Miley Cyrus and The Today Show.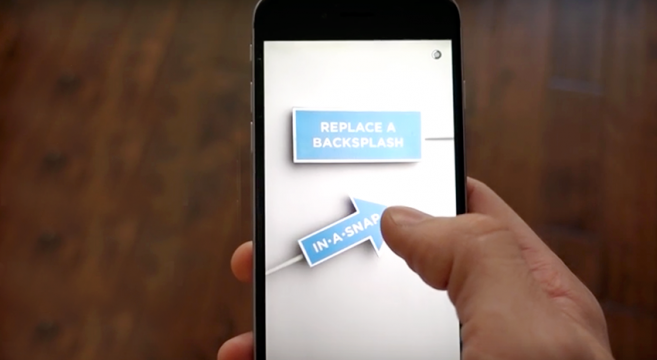 Lowes (Snapchat: lowesdiy)
Home improvement retailer, Lowes, has turned to Snapchat to help first-time millennial home buyers discover home improvement tricks. The retailer's "In-a-Snap" series, which launched in April, aims to inspire both young homeowners and renters to tackle simple home improvement projects such as installing book shelves to finding a wall stud.
"The challenge as a marketer today is, how do you continue to engage consumers differently and within different social platforms," said Lowe's Chief Marketing Officer Marci Grebstein. "We have to be able to create informative and entertaining content based on how the platform works."
As you can see, there are handfuls of creative ways to make Snapchat work for your retail business. Since you're jumping in early in the game, there's tremendous opportunity to gain traction for your business. Because of its temporary nature, Snapchat proves to be a great tool to test creative ways to drive traffic to your brick-and-mortar, online properties, events and even interact with your customers on a more personal level than ever before. With 100 million daily users and growing, there's a massive opportunity to turn fans into customers and eventually into brand loyalists who have your brand at top of mind at their next opportunity to purchase.
---
By doing this, you'll build a strategy for retail success.