HANDMADE COLLECTION
A showcase of handcrafted merchandise in categories such as tabletop, ceramics, textiles, home decor, jewelry, apparel, and more.
Artisan Resource®
Over 100 overseas artisan enterprises showcasing a curated collection along with custom design production capabilities at export terms from country of origin.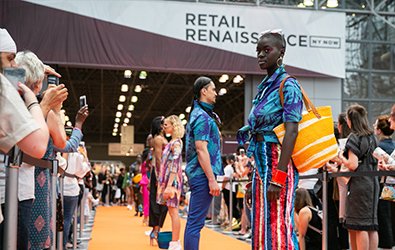 Fashion Runway
Farai Simoyi, the global leader of international fashion and celebrity fashion house consultant, is curating the Fashion Runway at NY NOW®, a global handmade accessories fashion show.
Artisan Experience
Featuring live demonstrations during show days. Providing an experience to buyers on how artists craft their one-of-kind handmade products.
Rising Artisans
HANDMADE® at NY NOW®, featuring over 600 exhibitors, is the ultimate collection of Made in the USA and Global artisan products. For 30+ years, HANDMADE® has offered buyers an extensive selection of handcrafted items across such categories as tabletop, ceramics, textiles, home decor, stationery, fashion accessories, jewelry and apparel. Expertly curated, HANDMADE® at NY NOW® will impress you with design forward contemporary craft, traditional global resources and export artisan production capabilities.
Presented within 3 juried categories: Artisan Resource®, Handmade® Designer Maker and Handmade® Global Design; the HANDMADE® Collection at NY NOW® remains a leader in the industry showcasing authentic designs. From Eco-friendly, fair trade products to Made in the USA certification, you're sure to find products that are unique, authentic and marketable.
Artisan Resource®, featuring nearly 100 overseas artisan enterprises, consists of companies who have been carefully selected for their demonstrated export capacity and commitment to Eco-friendly, design driven products which keep artisan craftsmanship, authentic techniques and cultural heritage alive.
Designer Maker®, which showcases 350 makers across all categories and media, focuses on limited production and quality craftsmanship. A majority of the exhibitors in Designer Maker® are based in the USA. Product categories include among other things, handmade jewelry, blown glass, and ceramics.
Global Design, which presents 150 international craft resources, ensures strong design blended with traditional techniques and authentic designs handmade through global artisan workshops with the ability to cater to the U.S. wholesale market.
Held twice a year in the summer and winter, NY NOW®'s HANDMADE® Collection is a must attend event for all those looking to see the newest trends in handcrafted products. Whether it's handmade jewelry or eco-friendly materials you're looking for, you're sure to be pleased with the caliber of handmade products represented at NY NOW®. The strong mix of handmade exhibitors will be complemented by extensive programming focusing on global resources and handmade design.