A kaleidoscope of culture. An icon of style. A destination that outdoes itself every time. Whether you're talking uptown sophistication or downtown edge, the New York State of Find is all about what's new — and what you won't find anywhere else. From hip and sleek to eco-chic and artisan-made to gourmet, the next big things and bestsellers are found here.
Your fine art skills come alive in the HANDMADE Designer Maker section, where buyers come to explore a beautiful mix of fabrics, jewelry, wood, and pottery crafted by passionate artists like you, learn about your process and pieces — and place orders on-site.
Sample of types of stores in attendance
| | | |
| --- | --- | --- |
| Hospital Gift Shop | Cart/Kiosk Retailer | Gift/Novelty/Souvenir |
| Grocery/Super Market | Pop-Up Store | Arts/Crafts/Hobby/Toy/Games |
| Thrift Store/Used Goods | Fine Art Gallery | Warehouse Clubs and Supercenters |
| Book Store | Technology Store | Luggage/Leather Goods |
| Stationery/Party/Paper/Office Supply | Airport Shop | Children's Store |
| Florist/Garden Center | Pet & Pet Supply Stores | Corporate Premiums |
| Fashion Jewelry | Church/Synagogue Store | Drug Store/Pharmacy |
| Premium Incentives | Clothing and Accessories | Health Foods Store |
| Shoe Store | Arts & Entertainment Venues | Wellness/Beauty Store |
| Furniture/Home Décor | Gourmet Food | Museums & Cultural Institutions |
| Department Store | General Gift Shop | Sporting Goods |
Criteria for Acceptance
A developed line of unique and original work
Products designed and handmade by the artists with a focus on limited production
Applications continue to be reviewed by the selection committee on a rolling basis.
Access to influential buyers with proven purchasing authority. Click here to read our Post Show Report.
Are looking for new products
Say attending NY NOW is extremely important to their business
Are more likely to purchase a product for their store having seen it at NY NOW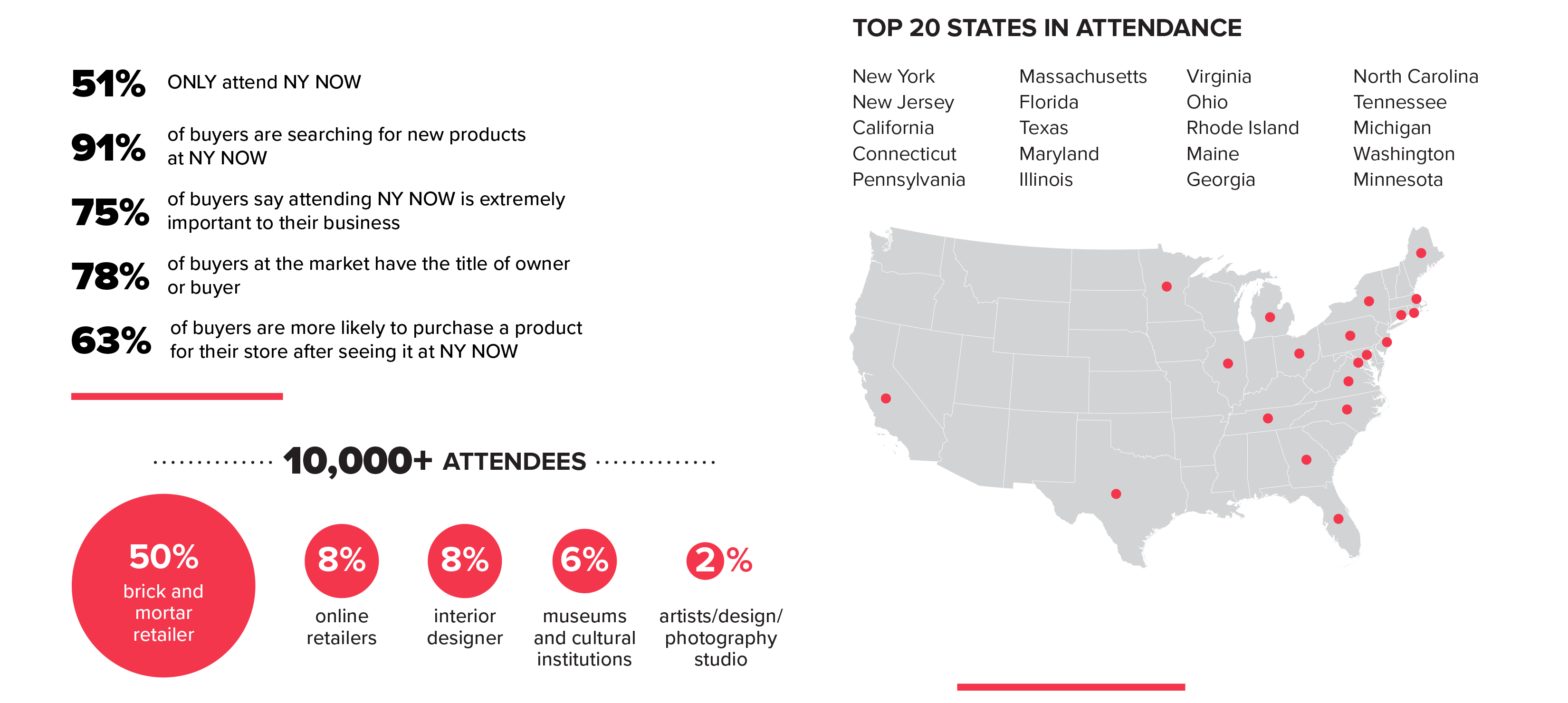 Ashley Ciofrone
Sales Manager
I have been a part of NY NOW and this incredible Handmade community for the past 8 years. The passion, creativity, missions, and talent of this community are unparalleled and the reason I truly love what I do! I would love to connect to learn the story behind your brand and be given the opportunity to showcase your inspirational product line within CREATE at NY NOW. You can reach me at ashley.ciofrone@nynow.com.