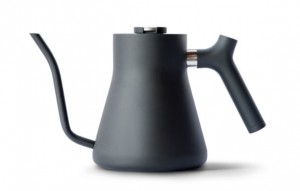 NEW YORK, NY, February 2, 2016 – NY NOW®, the Market for Home, Lifestyle + Gift, in conjunction with Apartment Therapy – a digital resource that provides daily inspiration for decorating, DIY projects, renovating, de-cluttering and massaging interior spaces – announced today the winner of the Best in Market Award for the winter 2016 market. The Stagg Pour-Over Kettle by Fellow received the Best in Market Award and is on display in booth #3778 at NY NOW which runs through Wednesday, February 3, at New York City's Jacob K. Javits Convention Center.
"We at Fellow are thrilled to accept the Best in Market Award from NY NOW for our Stagg Pour-Over Kettle," said Jake Miller, Founder, Fellow. "We believe that coffee lovers should have fun with the craft of brewing, and our new Stagg Pour-Over Kettle brings aesthetics and functionality together to perfect the pour-over."
NY NOW's Best in Market Award recognizes one extraordinary product that stood out among the nine category winners of the Best New Product Awards. The nine products were evaluated by judges from Apartment Therapy, including CEO and Founder Maxwell Ryan and Managing Editor Carrie McBride, before a winner was selected.
"I'm honored to be NY NOW's 'Best in Market' judge this year and equally as excited to name Fellow as the winner for its Stagg Pour-Over Kettle," said Maxwell Ryan, CEO and Founder of Apartment Therapy. "I was impressed with all of the finalists which were designed with innovation, utility and style in mind, but the Stagg Pour-Over Kettle was the stand-out product for us because of its craftsmanship, design and potential!"
The Stagg Pour-Over Kettle by Fellow – part of the Tabletop + Gourmet Housewares section of the HOME Collection – melds a handsome design with flawless functionality to create the perfect pour-over. It has a brew-range thermometer that highlights the optimal brew temperature, a precision pour spout, and a counterbalanced handle that shifts the center of mass closer to the user's hand for an easier pour.
"The contenders for the Best in Market Award represent the leading edge of design and function at the winter market," said Randi Mohr, Co-Director and Vice President, NY NOW. "Maxwell and his team at Apartment Therapy certainly had a hard task ahead of them, but their intuition and design-centered taste guided them to a product that we agree stands out among the pack!"
For more information, visit nynow.com.
About NY NOW®, the Market for Home, Lifestyle + Gift
NY NOW®, the Market for Home, Lifestyle + Gift, will take place at New York City's Jacob K. Javits Convention Center. NY NOW features three comprehensive collections – HOME, LIFESTYLE and HANDMADE – that encompass 100,000 products in hundreds of product categories. The Handmade® Designer Maker and Handmade® Global Design sections of the HANDMADE Collection will open on Saturday, January 30 and close on Tuesday, February 2. The HOME and LIFESTYLE Collections, and the Artisan Resource® section of the HANDMADE Collection, will open on Sunday, January 31, and close on Wednesday, February 3. Attendees from all 50 states and more than 80 countries worldwide are expected. For more information and to register, visit nynow.com.
About Emerald Expositions
Emerald Expositions is a leading operator of large business-to-business tradeshows in the United States, producing more than 80 tradeshows and conference events per year, connecting hundreds of thousands of buyers and sellers across ten diversified end-markets, including Gift, Home and General Merchandise; Sports & Apparel; Design; Jewelry, Luxury, and Antiques; eCommerce; Photography; Healthcare; Military; and Food. Emerald is headquartered in San Juan Capistrano, CA. The company's shows are typically the most prominent and important for exhibitors and attendees within their various industries. For more information on Emerald, please visit emeraldexpositions.com.
###