AUGUST 13-16, 2023 | JAVITS CENTER NYC
There's a reason that over 51% of the buyers at NY NOW don't attend any other event — no other show delivers the same level of high-quality, innovative products across such a diverse range of categories. Held in the nation's design capital — the city where trends begin — this global wholesale market is known as the place to discover the next big thing, and retailers love to say that this is where they source.
This year, we're enhancing the on-site experience with new, curated events that deliver fresh inspiration, tap into the magic of our unbeatable location — and attract an even broader pool of style-obsessed buyers. So, whether you're an emerging accessories brand looking to become a household name or a hands-on designer with a knack for crafting exquisite wooden toys, this is the place to connect with the people who appreciate (and want to purchase) your products. Join them in person — so they can discover everything new from you.
Attendees represent all types of businesses and come from locations all around the world, but they have one thing in common: they're ready to buy. As an exhibitor, you'll gain access to thousands of members of your target audience — from independent specialty retailers to buying teams from big-name e-commerce shops, importers/exporters to distributors — who are ready to place orders.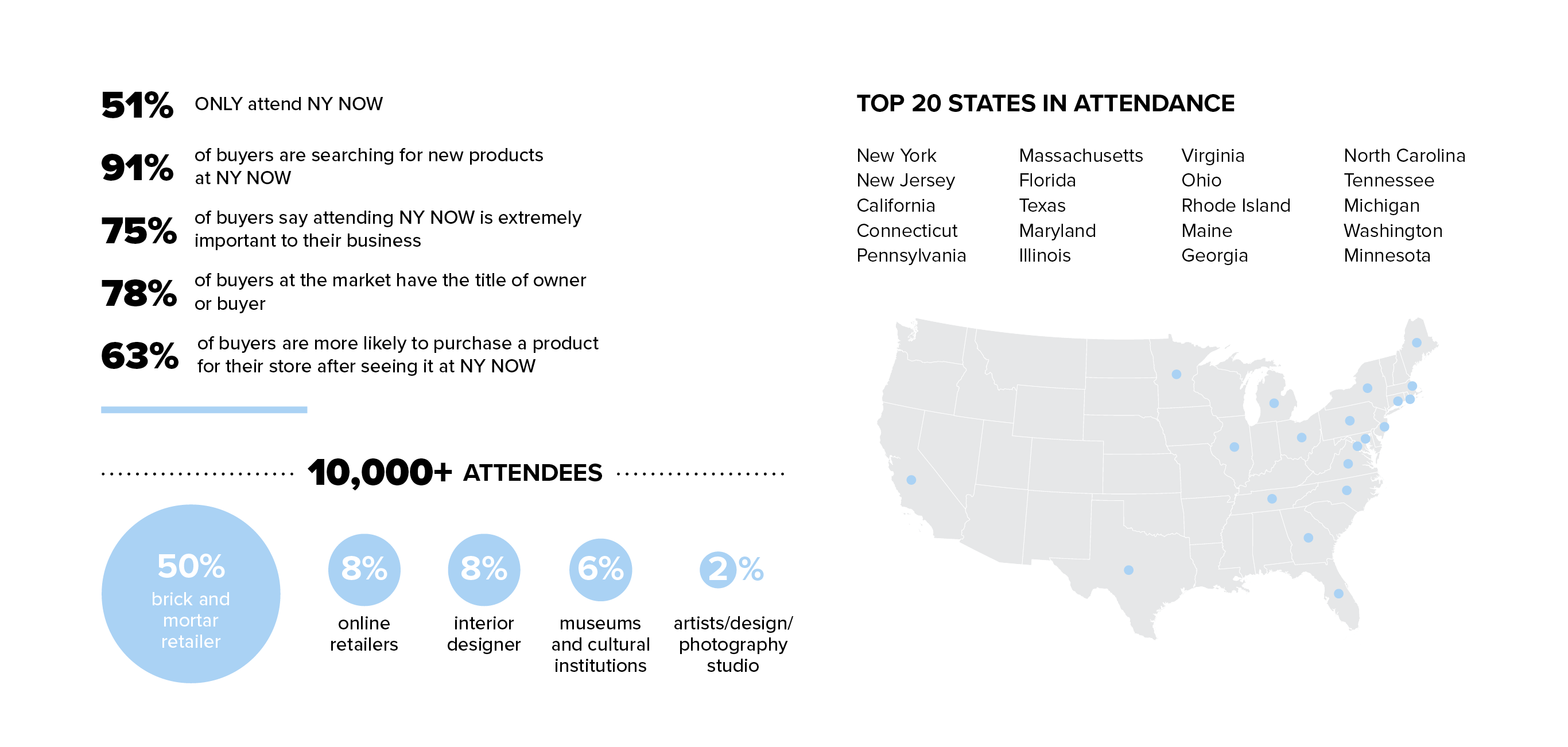 "We represent beautiful brands from around the world and the NY NOW show is the perfect fit. What we need is a variety of buyers – the specialty toy boutiques, the museum buyer, the gift shops, and the beauty of NY NOW is getting to see all three in the same place! Retailers love to have their buying opportunities at the beginning of the year to plan, so it's brilliant that we can have a show like NY NOW in the February timeframe. I really appreciate NY NOW and the experience that we've had. It's been an amazing show. See you at the summer market! "
Cassidy Smith, Owner – Uniche Collective
Always a wonderful energy here! Nothing like NY NOW. Found lots of new products."
"NY NOW – Wow! Have been coming here for many years now. Loved how you have rearranged the floor. Feels more welcomed! Much more personal booths."
"Great show – Wonderful to be back in N.Y. Definitely need 3 days."