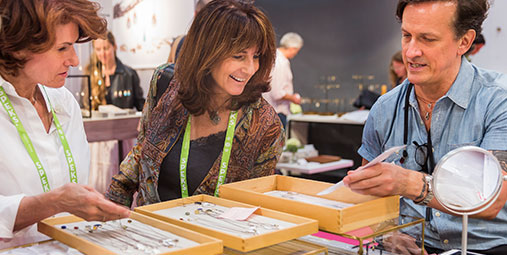 30+ NEW FEATURES AND EVENTS COMING TO NY NOW® SUMMER 2019
New York, NY – June 13, 2019 – NY NOW® unveiled an unprecedented schedule announcing 30+ new features and events to experience at the upcoming summer market. These new features and events, combined with the co-locations of the NSS® and JA New York, will offer attendees expanded opportunities to source new product categories across the Market while they immerse themselves in the exciting new experiences throughout the RETAIL RENAISSANCE NY NOW®.  
"This Summer we're taking inspirational experience to an entirely new level," said Kevin O'Keefe, EVP, Emerald Expositions. Store owners, buyers, designers and exhibitors have never has seen anything like this at NY NOW. Everybody will feel the difference from the moment they enter the Javits Center and just keep feeling the excitement throughout the market. We are also very happy to welcome the +500 new-to-NY NOW National Stationery Show and Jewelers of America (JA) exhibitors"
NEW EVENTS

The first-ever NY NOW Fashion Runway will debut on Saturday, August 10th, celebrating the opening day of the HANDMADE Collection along with the NSS. Curated by global fashion designer and founder of the Narativ, Farai Simoyi, buyers will watch the newest jewelry and fashion accessories walk down the runway. Beginning Saturday, the Fashion Show will take place daily August 10-14 at 10:30 AM in the Crystal Palace lobby. 

Opening parties by Collection will offer networking opportunities among buyers and exhibiting brands by category, celebrating the opening of Market with live entertainment and complimentary appetizers and drinks. The HANDMADE opening party will take place on Saturday, August 10 from 6-7:30pm in the Crystal Palace lobby; on Sunday, August 11 from 4-6 pm, HOME will celebrate in the Holiday House on level 3 booth 2446, and the LIFESTYLE Collection will host a themed block party throughout level 1 from 4-6pm with carnival-themed snacks, beverages, entertainment and chances to win a prize. 

Accent on Design® is celebrating its 35th Anniversary at the summer Market. A memory wall in the Accent on Design section will commemorate the innovative designs introduced at NY NOW over the years, and NYC-based and award-winning artist Jason Naylor will paint an inspired mural, right on the show floor celebrating 35 years of passion and design beginning August 11. 

NY NOW will present an awards night on Monday, August 12, honoring the first recipient of the inaugural Renaissance Retailer Award, along with the winners of Best New Product across all categories of the Market, including Best in Market and Best Exclusive Launch on level 3, 6-8 PM. 
NEW FEATURES
For the first time, the NY NOW summer market will be hosting a silent auction as part of an initiative to help raise awareness and funds for breast cancer research. Products donated by participating exhibitors will be auctioned with bidding opening on July 15 and closing on the last of the Market, August 14. Proceeds benefit Mission in Pink, supporting breast cancer research in honor of founder and renowned interior designer Iris Dankner. 
The Epicurean Kitchen, a new live demonstration stage right on the show floor will feature expert chefs daily including Lidia Bastianich on Tuesday, August 13 at 2:30 pm.
New categories are being introduced, expanding product sourcing across the show; CBDNOW – featuring the best emerging and established brands with CBD products; chicNOW – the newest emerging brands in Personal Accessories; Distinctive Living – products, décor and furnishings with extraordinary visual appeal displayed in unique settings; First Taste, highlighted fun emerging brands in gourmet packaged goods; and The Gallery at NY NOW, presenting contemporary, unique and inspiring wall art for the home displayed in a gallery setting.
Live entertainment from Music by Gigi, electric violinist and professional saxophonists will welcome you to the Market, with performances all five days of the Market.
EXPANDED FROM WINTER
New Transcend Displays, brought to Market by NY NOW brand ambassador, celebrity interior designer and lifestyle expert Robin Baron, will transform the summer market into an inspirational space with design installations to wow all lovers of design and innovation. 
Transcend Talks will also continue with a brand new lineup of topics and exciting speakers and panelists, including Bob Phibbs, the Retail Doctor®, Iris Dankner, Interior Designer and founder of the Holiday House, Michael Aram, designer, Stacy Garcia, Robin Kramer of Flourish & Thrive Academy and more.
During market, the Show Us Your Order sweepstakes will be expanded and reward buyers for placing orders throughout the show. Buyers are encouraged to stop by designated areas on the floor to show their orders for chances to win American Express gift cards, ranging from $100 – $1,000 each daily. Up to $10,000 will be given away August 10-13.
###
About NY NOW
The summer 2019 edition of NY NOW®, the Market for Home, Lifestyle, Handmade + Gift, will take place August 10-14, 2019 at New York City's Jacob K. Javits Convention Center. NY NOW features three comprehensive collections — HOME, LIFESTYLE and HANDMADE — that encompass tens of thousands of products in hundreds of product categories. Building on the success of the Winter Market, the National Stationery Show® will take place during the same time in the River Pavilion and for the first time, will welcome a new co-location, JA New York, on level one in hals D and E at the Javits Center. Attendees from all 50 states and nearly 70 countries worldwide are expected. 
NY NOW is owned by Emerald Expositions, a leading operator of business-to-business trade shows in the United States. The company currently operates more than 55 trade shows, as well as numerous other face-to-face events. In 2017, Emerald's events connected over 500,000 global attendees and exhibitors and occupied more than 6.9 million NSF of exhibition space. 
Notes To Editors:
The official name of the market is "NY NOW." Please do not use "NY Now," "NYNow," "New York Now," "the NY Gift Show" or the "NY Gift Fair" to refer to the market. 
The NY NOW summer 2019 market will take place August 10-13 with staggered opening and closing dates: HANDMADE Collection: Saturday, August 10 through Tuesday, August 13, 2019; LIFESTYLE and HANDMADE Collections open Sunday, August 11 through Wednesday, August 14, 2019 at the Jacob K. Javits Convention Center in New York City. 
The National Stationery Show® will be co-located with the NY NOW summer market and will be located on the Level 4 River Pavilion in the Javits Center Saturday August 10, through Tuesday, August 13, 2019. 
JA New York will be co-located with the NY NOW summer market and will be located on on level 1 in halls 1D and 1E.
For high-res images or the NY NOW logo for your coverage, please contact us at meg.estevez@emeraldexpo.com