For
immediate release – January 16, 2019
Information
Contact:
Marie Alfano, Director of Operations
LUXINLIV, LLC
malfano@LuxInLiv.com
516-589-1278
LuinLivingUSA.Com Makes Its Debut
Finnish Luxury Lifestyle Brand Brings Everyday Indulgence
Stateside
(PHILADELPHIA)
LUXINLIV,
LLC the exclusive U.S. importer and distributor of Finland's lifestyle brand
Luin Living, is proud to announce the debut of the company's website,
https://www.luinlivingusa.com
.  This
website features Luin Living USA's collection of towels, robes, spa dresses,
ponchos, home fragrances and home décor available for purchase in the United
States. 
In addition to the website, two pop-up shops, featuring Luin Living USA luxury
lifestyle products, debuted during the holiday season at Saks Fifth Avenue at
Tyson's Galleria in McLean, Va. through January 2, 2019, and at Saks Fifth
Avenue in Chevy Chase, MD through January 9, 2019.
"We are pleased to be able to bring Luin Living products to the U.S.," said
Marie Alfano, Director of Operations for LUXINLIV, LLC. "While the pop-up shops
in McLean and Chevy Chase have been a wonderful way to begin introducing Luin
Living products to the U.S. market, our website will now make the entire
product line available to shoppers across the country, so we can welcome them
all to the luxury of Luin Living USA!"
Luin Living USA strives to share simple indulgence in every home, every day.
Their product line boasts a collection of products such as robes, spa dresses,
ponchos and their signature hair towel, available in timeless colors and
designs for all ages and all genders; home fragrances and home décor items. The
company's bath fashions are made in Turkey, long known for their exquisite and high-quality
luxury home textiles. The towels are woven with a signature cotton material,
created exclusively for Luin Living, using a unique technology that allows for
plushness on both sides, adding to their softness and absorbency. The softness,
thickness, and attention to detail of Luin Living products provide a relaxing,
comfortable, spa-like experience in the comfort of one's own home. To view the
entire Luin Living USA collection visit their booth # 3057 at NY NOW, February
3-6, 2019, at the Jacob Javits Center in New York City or visit
https://www.luinlivingusa.com/our-collections/
.
###
 
Established in 2018, LUXINLIV, LLC is an up and coming lifestyle company
representing exclusive lines of luxury brands and home décor from the U.S. and
around the world.  The company is the exclusive US importer and
distributor of the Finnish lifestyle brand Luin Living. For more information
call 1-877-LUX-1LIV (877-589-1548) or email Marie Alfano at
malfano@LuxinLiv.com
About Luin Living:
Luin Living was founded by two Finnish women in 2015 who identified a need for
a stylish, indulgently soft hair towel. From their first product, the Luin
Living brand has expanded into bath fashions in timeless designs and colors for
all ages and genders, as well as home décor and body products. For information
visit
https://www.luinlivingusa.com
.
About
NY NOW
The winter 2019 edition of NY NOW®, the Market for Home, Lifestyle, Handmade +
Gift, will take place February 3-6, 2019 at New York City's Jacob K. Javits
Convention Center. NY NOW features three comprehensive collections – HOME,
LIFESTYLE and HANDMADE – that encompass tens of thousands of products in
hundreds of product categories. For the first time, NY NOW welcomes the
co-locations of the winter market with the National Stationery Show ® and
SURTEX®, which will take place during the same time, all under one roof and in
the same location. Attendees from all 50 states and nearly 70 countries
worldwide are expected.
NY NOW is owned by Emerald Expositions, a leading operator of
business-to-business trade shows in the United States. The company currently
operates more than 55 trade shows, as well as numerous other face-to-face
events. In 2017, Emerald's events connected over 500,000 global attendees and
exhibitors and occupied more than 6.9 million NSF of exhibition space.
Editor's Note: (Photos
courtesy of LUXINLIV, LLC)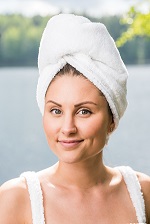 Photo: Hair towel 
The Luin Living USA Hair Towel is made from 100 percent Turkish cotton. 
It is designed to dry even the thickest of hair without causing frizz and
breakage. Available in several timeless colors, the Luin Living USA Hair Towel
makes a great gift for anyone who wants to experience spa luxury at home. (
https://www.luinlivingusa.com/product/bathroom/hair-towel/
)
Photo: Poncho
Luin Living USA's poncho, available in adult and children's sizes, is a
relaxing alternative to a bathrobe. It can be used both after bathing or as a
beach coverup. Luin Living USA's bath and home fashions are made from 100
percent Turkish cotton, created exclusively for Luin Living. The poncho
features a large hood, pockets and buttons on both sides. (
https://www.luinlivingusa.com/product/bathroom/poncho-towel/
)
Editor's Notes (web links
and videos):
2)Product videos can be viewed at: