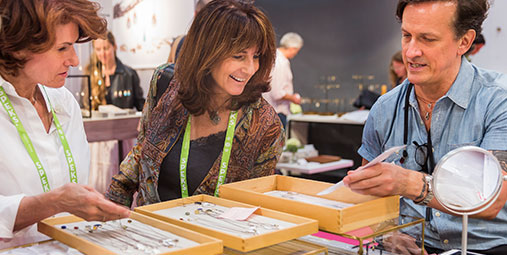 NY NOW® Announces Cooper Boone is First Recipient of Renaissance Retailer Award 
New York, NY – July 15, 2019 – Emerald Expositions, the organizers of NY NOW®, announced today that Cooper Boone is the winner of the first Renaissance Retailer Award. The award is for excellence in inspirational retail experience at the independent store level. Nominations were submitted by friends, colleagues and retailers, and the winner chosen by top industry retailers and designers.
Boone is a multi-talented singer, songwriter, clinical child psychologist, televised cook and owner of the award-winning lifestyle store Foundry42, located in Port Jervis, NY. He has worked with Paula Deen, been featured on Good Morning America and ABC TVs live Nashville Christmas Special. He also toured his live Cooper's Kitchen show for 10 years with Country Living Magazine Fair.
According to the judges, Boone was chosen because he is a visionary with an innate ability to work from his heart and develop his own beautifully curated universe. They added, "From pairing his own handmade furniture pieces with complimentary architectural gifting items, to developing creative workshops and even brewing their own combination of coffee beans in their café, Cooper continues to provide you an inspirational experience at Foundry 42 and celebrates it with you."
 "Cooper Boone is the perfect inaugural recipient of this award," said Kevin O'Keefe, Executive Vice President, Emerald Expositions. "He embodies the spirit of change and makes it his greatest strength by embracing it. We are honored and excited to celebrate his vision and success."
The award will be presented at the 68th annual Retailer Excellence Awards (REA), hosted by Gifts & Decorative Accessories. The longest standing and most prestigious awards program for independent retailers in the gift and home industry, takes place on Sunday, August 11. Boone will also be recognized at the first NY NOW Awards Party on Monday, August 12.
###
About NY NOW
The summer 2019 edition of NY NOW®, the Market for Home, Lifestyle, Handmade + Gift, will take place August 10-14, 2019 at New York City's Jacob K. Javits Convention Center. NY NOW features three comprehensive collections — HOME, LIFESTYLE and HANDMADE — that encompass tens of thousands of products in hundreds of product categories. Building on the success of the Winter Market, the National Stationery Show® will take place during the same time in the River Pavilion and for the first time, will welcome a new co-location, JA New York, on level one in hals D and E at the Javits Center. Attendees from all 50 states and nearly 70 countries worldwide are expected. 
NY NOW is owned by Emerald Expositions, a leading operator of business-to-business trade shows in the United States. The company currently operates more than 55 trade shows, as well as numerous other face-to-face events. In 2017, Emerald's events connected over 500,000 global attendees and exhibitors and occupied more than 6.9 million NSF of exhibition space. 
Notes To Editors:
The official name of the market is "NY NOW." Please do not use "NY Now," "NYNow," "New York Now," "the NY Gift Show" or the "NY Gift Fair" to refer to the market. 
The NY NOW summer 2019 market will take place August 10-14 with staggered opening and closing dates: HANDMADE Collection: Saturday, August 10 through Tuesday, August 13, 2019; LIFESTYLE and HANDMADE Collections open Sunday, August 11 through Wednesday, August 14, 2019 at the Jacob K. Javits Convention Center in New York City. 
The National Stationery Show® will be co-located with the NY NOW summer market and will be located on the Level 4 River Pavilion in the Javits Center Saturday August 10, through Tuesday, August 13, 2019. 
JA New York will be co-located with the NY NOW summer market and will be located on on level 1 in halls 1D and 1E in the Javits Center Saturday August 11, through Tuesday, August 14, 2019.
For high-res images or the NY NOW logo for your coverage, please contact us at meg.estevez@emeraldexpo.com