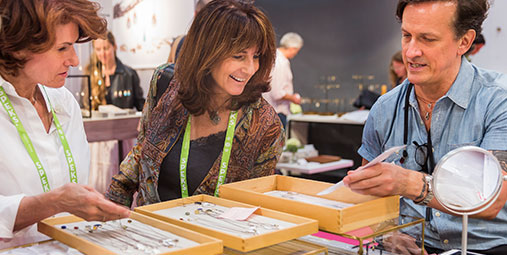 New York, NY—August 5, 2019 —ROBIN BARON, NY NOW BRAND AMBASSADOR, celebrity interior and home furnishings designer, has hand-selected prominent designers to create and curate all four Transcend Spaces on the show floor at the summer market August 11-14, 2019. Retailers and designers will experience beautiful displays designed by top industry designers Steven Favreau, Michael Tavano, and representing the Black Artists + Designers Guild; Beth Diana Smith, Kiyonda Powell, and representing ASID NY Metro; Bjorn Bjornsson, Benjamin Huntington, Amal Kapen, and Joan Ravasay!  Learn more
The Transcend design experience will be filled with products from extraordinary companies like; Lladro, Bungalow 5, Kim Seybert, Michael Aram, Arteriors Home, Phillips Collection, Nourison, Currey & Co, Alpha Workshops, From Chef To Table, and many more.
"I'm excited For the NY NOW Summer 2019 show!" says Brand Ambassador, Robin Baron. "Our new Transcend spaces designed by prominent designers are geared specifically to highlight interior design, inspire and transport show attendees."
"Having Robin and so many other talented designers showcase their world-renowned work at Transcend Spaces is something that we, at NY NOW, are incredibly excited about," said Kevin O'Keefe, EVP Emerald Expositions. "This inspirational opportunity has increased the designer attendance to the show, which tells us that NY NOW continues to give our attendees what they seek and crave in order to contribute to the Retail Renaissance."
The Summer 2019 Transcend Talks, held on the show floor, will feature free sessions with a focus on the changing landscape of retail, why social media is important, what's new in interior design, color trends, inspirational talks about following your passion and many more. This summer's stellar line up of industry luminaries come from brands including: Robin Baron Design, Holiday House, The Retail Doctor, Karim Rashid, Inc., Favreau Design at the Favreaulous Factory, Michael Tavano Design, and many more. Review the full agenda here
Robin Baron is a celebrity interior designer, lifestyle expert, and luxury home furnishings designer. She is renowned for her sense of fashion and style as well as her high-profile clientele. Robin has significant experience on TV, video and radio, including appearing on HGTV, Bravo and NBC, and has been featured in many print and online publications. Her new eponymous collections of home furnishings will be exhibited at NY NOW.
Interior designer Steven Favreau is preeminent on today's world stage. Headquartered in Boston, Favreau's residential and commercial projects span the United States and European Union. Among his TV appearances, Favreau was a contestant on HGTV's The White Room Challenge. He was also a two-time semi finalist for the HGTV home decorating interior design show Design Star. In early 2018 Favreau opened his 11,000 square foot headquarters, the Favreaulous Factory. Accomplished in luxury residential design, he has added boutique hotels and restaurants to his portfolio. http://favreaulousfactory.com/favreau-design
Michael Tavano is an Interior Designer, lifestyle expert and stars in the BBC's hit television series House of the Year. His interiors combine a keen eye for color, scale, lighting and proportion with a touch of whimsy and a genuine passion for creating quality of life through design. He is also the co-founder and creative director of Marks & Tavano Workroom. Known as Manhattan's couture workroom, Marks & Tavano handcrafts custom draperies and upholstery for Michael's own design practice and those of the country's most accomplished designers. https://www.michaeltavano.com/
About Black Artists + Designers Guild
Black Artists + Designers Guild (BADG) is a curated collective of Black Artists + Designers throughout the African diaspora. They create contemporary art, textiles, furniture, interiors, and architecture for bespoke residential, commercial and hospitality spaces. BADG was created by an unapologetically Black female creative entrepreneur, Malene Barnett of Malene B. www.badguild.info
Beth Diana Smith is the Owner and Principal Designer of Beth Diana Smith Interior Design, a full-service interior design firm focused on the discerning client who wants a curated home with thoughtful details. She prides herself on her bold, eclectic style while creating a home's story through renovation, curated pieces, and customized design. Her goal for each client is to have them see another realm of possibility in how they can live. www.bethdianasmith.com
Kiyonda Powell Design Studio, LLC is a boutique interior design firm based in Washington DC transforming residential and commercial spaces through thoughtful and innovative concepts. With a background in the hospitality industry as well as residential and boutique commercial design, Kiyonda has made an indelible contribution to the design industry for the last 16 years. Throughout her career, Kiyonda has held multiple leadership roles in design and public service. She is a mainstay advisor, volunteering on multiple committees for charitable and community organizations throughout the DMV (DC, MD and VA) offering her service, skill and expertise. Kiyonda attended Marymount University and studied in the Master of Arts for Interior Design Program in Arlington, VA. www.kiyondapowell.com
The American Society of Interior Designers (ASID) advances the interior design profession and communicates the impact of design on the human experience. They collaborate with others to promote the value of interior design. ASID prepares its members to excel in a dynamic and evolving profession. They generate, collect and disseminate applied knowledge.
Bjorn Bjornsson is an accomplished interior designer in New York City who was born and raised in Iceland and educated in Denmark. After working on projects in Japan, Saudi Araba and other parts of the globe, Bjorn realized he needed to be in the private sector. He knew this would help expand his vision to work on a wide range of design styles and guide clients to create their spaces while reflecting their own individual personalities. He moved to NYC to start his own Design Firm where his work has featured in many international and national publications including Florida Design, New York Times Magazine, Garden Magazine, Architecture of Denmark, European House, Icelandic House Beautiful. https://www.bjornbjornsson.com/
For almost 40 years Benjamin has worked on a wide variety of design projects ranging from; Hamptons houses, a 15,000 square foot ski chateau, many brownstones, numerous Manhattan apartments offices, an art gallery, other public spaces, and several country houses, including a large house in Scotland. http://veritatedesign.com/
Amal Kapen is a South African born interior designer based in Huntington, NY, Specializing in new traditional design. Amal's love of color is characteristic of her snappy, pretty style that has recently been featured in Traditional Home, Coastal Living, Cottages and Bungalows Magazine, Hamptons Home and Newsday. In October 2018 the designer opened eponymously named design shop in Huntington, NY overflowing with new and vintage art, accessories and furnishings. When not at the shop, you can find Amal sailing around Northport Harbor with her family. https://www.amalkapeninteriors.com/
Joan Ravasy is the founder of Joan Ravasy Design, founding in 1985, providing interior design services for luxury homes, doctors' offices and other businesses. Director of interior desing at Bloomingdales, NJ and NY, designing and furnishing model rooms and managing 25,000 sq. ft. of retail selling floor with a staff of 5. Interior design for name brands including BMW, FENDI, WARNER COSMETICS, L'OREAL, JOHNSON & JOHNSON, as well as countless private luxury homes, doctors' offices, executive suites, restaurants and other commercial locations. https://www.joanravasydesign.com/  
###
About NY NOW
The summer 2019 edition of NY NOW®, the Market for Home, Lifestyle, Handmade + Gift, will take place August 10-14, 2019 at New York City's Jacob K. Javits Convention Center. NY NOW features three comprehensive collections — HOME, LIFESTYLE and HANDMADE — that encompass tens of thousands of products in hundreds of product categories. Building on the success of the Winter Market, the National Stationery Show® will take place during the same time in the River Pavilion and for the first time, will welcome a new co-location, JA New York, on level one in hals D and E at the Javits Center. Attendees from all 50 states and nearly 70 countries worldwide are expected.
NY NOW is owned by Emerald Expositions, a leading operator of business-to-business trade shows in the United States. The company currently operates more than 55 trade shows, as well as numerous other face-to-face events. In 2017, Emerald's events connected over 500,000 global attendees and exhibitors and occupied more than 6.9 million NSF of exhibition space.
Notes To Editors:
The official name of the market is "NY NOW." Please do not use "NY Now," "NYNow," "New York Now," "the NY Gift Show" or the "NY Gift Fair" to refer to the market.
The NY NOW summer 2019 market will take place August 10-14 with staggered opening and closing dates: HANDMADE Collection: Saturday, August 10 through Tuesday, August 13, 2019; LIFESTYLE and HANDMADE Collections open Sunday, August 11 through Wednesday, August 14, 2019 at the Jacob K. Javits Convention Center in New York City.
The National Stationery Show® will be co-located with the NY NOW summer market and will be located on the Level 4 River Pavilion in the Javits Center Saturday August 10, through Tuesday, August 13, 2019.
JA New York will be co-located with the NY NOW summer market and will be located on on level 1 in halls 1D and 1E in the Javits Center Saturday August 11, through Tuesday, August 14, 2019.
For high-res images or the NY NOW logo for your coverage, please contact us at meg.estevez@emeraldexpo.com