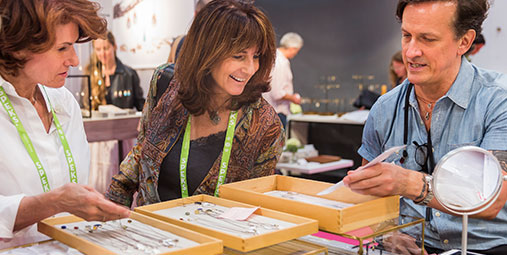 Farai Simoyi to Curate Fashion Runway for NY NOW Summer 2019
New York, NY – May 13, 2019 — Today NY NOW® announced the debut of the Fashion Runway, NY NOW's first-ever fashion show that is premiering at the upcoming Summer 2019 market. The show, consisting of jewelry and fashion accessories from around the globe, will be presented and curated by world-renowned designer Farai Simoyi. The first Runway show will debut on Saturday, August 10, 2019, at 10:30, opening day for the HANDMADE Collection — one day before the HOME and LIFESTYLE sections of the market open on Sunday, August 11.
"We are incredibly excited and honored to have Farai Simoyi curate our NY NOW® Fashion Runway show at the Summer 2019 market," said Kevin O'Keefe EVP Emerald Expositions. "Farai embodies the retail renaissance through her innovative concept store, design workshops, and her passion for helping to elevate other entrepreneurs. NY NOW will also be kicking off the fashion show on Saturday with complimentary mimosas and coffee."
Farai Simoyi is the founder of The Narativ, an innovative concept store and design workshop for global luxury brands. She is also the co-founder of BLOOM, a conversational site for female entrepreneurs. Her self-titled fashion label "Farai" emphasizes her personal standards and the need for quality and ethical products. Additionally, Simoyi has over a decade of experience designing, consulting and overseeing production and manufacturing for celebrity fashion houses. Simoyi has also graced the pages of FORBES, has been called by Essence Magazine as the "Next Best Designer," and has spoken on stages across the world about global fashion development.
 Register today for the NY NOW Summer 2019 market and experience the retail renaissance first-hand this August.
###
ABOUT NY NOW:
 The summer 2019 edition of NY NOW®, the Market for Home, Lifestyle, Handmade + Gift, will take place August 10-14, 2019 at New York City's Jacob K. Javits Convention Center. NY NOW features three comprehensive collections — HOME, LIFESTYLE and HANDMADE — that encompass tens of thousands of products in hundreds of product categories. Building on the success of the Winter Market, the National Stationery Show® will take place during the same time in the River Pavilion and for the first time, will welcome a new co-location, JA New York, on level one in halls D and E at the Javits Center. Attendees from all 50 states and nearly 70 countries worldwide are expected.  One badge provides attendees access to all three shows for the summer market.
 NY NOW is owned by Emerald Expositions, a leading operator of business-to-business trade shows in the United States. The company currently operates more than 55 trade shows, as well as numerous other face-to-face events. In 2017, Emerald's events connected over 500,000 global attendees and exhibitors and occupied more than 6.9 million NSF of exhibition space.
NOTES TO EDITORS:
•The official name of the market is "NY NOW." Please do not use "NY Now," "NYNow," "New York Now," "the NY Gift Show" or the "NY Gift Fair" to refer to the market.
•The NY NOW summer 2019 market will take place August 10-14 with staggered opening and closing dates: HANDMADE Collection: Saturday, August 10 through Tuesday, August 13, 2019; LIFESTYLE and HANDMADE Collections open Sunday, August 11 through Wednesday, August 14, 2019 at the Jacob K. Javits Convention Center in New York City.
•The National Stationery Show® will be co-located with the NY NOW summer market and will be located on the Level 4 River Pavilion in the Javits Center Saturday August 10, through Tuesday, August 13, 2019.
•JA New York will be co-located with the NY NOW summer market and will be located on on level 1 in halls 1D and 1E, Sunday August 11, through Wednesday, August 14, 2019.
For high-res images or the NY NOW logo for your coverage, please contact us at meg.estevez@emeraldexpo.com.