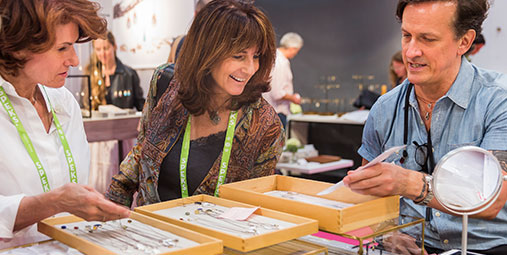 New York, NY – August 21, 2019 – The NY NOW® Summer 2019 market opened with strong attendance and a fresh new vibrancy and excitement on the show floor; buyers were welcomed with live music, the debut of a global fashion show, and hospitalities that drew buyers in to discover an energized market and a packed opening night party.

This summer market provided a dramatically elevated buying experience with a curated collection showcasing 2,300+ exhibitors presenting many thousands of brands. More than 350 totally new exhibitors and 465 exclusive to NY NOW product launches.  

"The NY NOW summer market continued redefining the attendee experience with an ongoing focus on the retail renaissance that is well underway." said Kevin O'Keefe, EVP, Emerald Expositions. "NY NOW is and will be the market that everyone is watching from show to show to see what the future of retail looks like and they're not going to want to miss it," continued Kevin O'Keefe.  

Many new exciting features and events were introduced that provided current market information of real value; from industry leaders along with new networking opportunities for attendees of all types.  
Some experiences and events included 
1. The first ever Fashion Runway at NY NOW – curated by Farai Simoyi, the global leader of international fashion and celebrity fashion house consultant. Models visited the booths of brands that participated in the runway and carried signs throughout the event that encouraged everyone to "ask them who they were wearing."
2. Transcend Talks – providing the absolute latest on social media best practices, real trend views from the leaders in retail and design, how to run a business and be financially successful, to inspirational stories about the passions that helped some speakers launch their businesses, and many more.
3. Transcend Showcase Displays – where Robin Baron, from Robin Baron Design, Inc. worked with top industry designers Steven Favreau, Michael Tavano, Beth Diana Smith, Kiyonda Powell, Bjorn Bjornsson, Benjamin Huntington, Amal Kapen, and Joan Ravasay to create four Transcend spaces providing attendees with provocative displays of what inspirational experience looks like.
4. Holiday House NYC @ NY NOW featured six top designers led by Iris Dankner. Bringing to life the Holiday House onto the show floor to showcase the different lifestyle that can be created with products from brands while also celebrating life events and raising funds with the NY NOW Cares Silent Auction Campaign to benefit breast cancer research.
5. NY NOW Awards Night – where all the winners of the "Best New Product" Awards at Summer Market were honored, together with the inaugural Renaissance Retailer winner Cooper Boone from Foundry 42+, NY NOW Legacy Award winner Ron Robinson from Ron Robinson, Inc. Plus, the 10 retailers to watch, and long time achievement awards to Karen Alweil, from Karen Alweil Studios and Michael Aram.
Exhibitor Quotes:
"The quality of buyers at NY NOW is phenomenal! We have everyone here from little boutiques that are just down the street to designers and fashion retailers, all sorts of different buyers that walk into our booth every single day to check out the products. NY NOW is fantastic to find new buyers, I'd say 50% of the orders we wrote were for new customers. We've also got a lot of great accounts that are loyal, who come back and reorder here and throughout the year…" – RUSTICO
"We launched our wholesale collection at the NY NOW Winter market this year, and from the second the doors opened, we were flooded with people until the second the doors closed, and 35 shops later, we are in 35 amazing retail partners, and this show is helping us take it to the next level. By the end of this summer market we're looking to have 60, and I think we'll get there! it's been unreal. We didn't expect it to happen so quickly. And it's because of NY NOW. It's high end, more like a European trade show, where there's things going on everywhere, we turn. It's more exciting. We're seeing a big California retailer presence and we're thrilled!" – Kerri Rosenthal, Kerri Rosenthal Designs
"I have been exhibiting at NY NOW twice a year for the past eight years and I keep coming back because it's a very successful show for me. I always meet new customers and I have a lot of my repeat business here and overall it's just a great show. The attendance has been really good this market and we've had a wonderful show. I'll definitely be coming back. NY NOW is very important to my business." – Tommy Mitchell, Owner – Tommy Mitchell Company
"Djalin is a furniture design company based in Indonesia. We design chairs and accessories made from wood, ratan, and metal works. This is our second time exhibiting at NY NOW. For us, NY NOW has had a global impact! The attendees interested in our products are retail stores, wholesalers, and even some opportunity for hospitality clients from hotel chains in Australia and the US. We are meeting new buyers as well as seeing our existing customers. The most important part is to connect with buyers, especially to display our newest designs and keep innovating and expanding our business in US." – Djalin – Indonesian Pavilion
Attendee Quotes:
"NY NOW is a huge part of our sourcing. It's convenient for us, And I also love how NY NOW is going into this new level. They're re-imagining the show and getting very creative, so they're listening too. They get it, and they're changing their programs. This market has been markedly different, and I think really improved and very buyer friendly. There's an excitement in the air, so I love the direction that they're going in. It's nice to see familiar faces But I also try challenge myself and go into booths that I necessarily wouldn't, to push myself to being open, and I find some really lovely surprises. Coming to NY NOW really enables me to find new vendors as well as continue the relationships with my ongoing vendors, and that makes a difference for me. It's a very efficient show as a buyer." – Cooper Boone, Owner – Foundry 42+
"I'm delighted in discovering exciting brands and products that weren't on my radar as I am always on the hunt for something new. Not to mention the value in reconnecting with my existing brand partners, where we could dream up new concepts. Thrilled I attended this year!" -Ricki Rubin Senior Merchant of POPSUGAR
"This is my eighth time coming to NY NOW. It's an important show for Paper Source for the amount of exhibitors. It's the biggest show, the biggest venue in the biggest city. My team and I spend at least three days at NY NOW. We meet new people and find new products that we've never seen before, and as a buyer, that's the most important thing for our business, to have new product to show the customer. Every time I've come to NY NOW, something new is happening. It's a good barometer of what's happening in the industry, and to see what other buyers are reacting to, or what the new exhibitors are offering. It will always be important because it's in New York, which is really the heart of retail, so it will always be an important destination for us." – Patrick Priori, Chief Merchandising Officer – Paper Source
NY NOW's "Best New Product" Awards recognize and celebrate the extraordinary product offerings from exhibitors across the market. Hundreds of exhibitors entered the awards and one winner was chosen from each of the eleven sections within the HOME, LIFESTYLE and HANDMADE Collections currently on display in the Jacob K. Javits Convention Center.
Winners of the summer 2019 "Best New Product" Awards are below (click here for online listing):
CATEGORY: BEST IN MARKET AWARD
WINNER: Djalin
CATEGORY: BEST EXCLUSIVE LAUNCH
WINNER: MATR BOOMIE
CATEGORY: Personal Accessories
WINNER: Idol Light
Special Mention: Fortune & Frame
Special Mention: Isabelle Gougenheim Designs
CATEGORY: GIFT
WINNER: Paddywax Candles
Special Mention: Studio Roof
Special Mention: Edwin Jagger
CATEGORY: Tabletop + Gourmet Housewares
WINNER: Bugatti Italy
Special Mention: Whole Harmony
Special Mention: Tin Parade Party
CATEGORY: Artisan Resource
WINNER: Djalin
WINNER: Koluntu
Special Mention: Mo's Crib
Special Mention: Organic Savanna
CATEGORY: HANDMADE GLOBAL DESIGN
WINNER: Flags for New World
Special Mention: All Across Africa
Special Mention: Socco
CATEGORY: ACCENT ON DESIGN
WINNER: Xoopar – INE
Special Mention: Lund of London
Special Mention: Ginkgo
CATEGORY: HOME FURNISHINGS + TEXTILES
WINNER: PRETTY RUGGED
Special Mention: Evangeline
Special Mention: LinenMe
CATEGORY: PERSONAL CARE + WELLNESS
WINNER: GRYPH & IVY ROSE
Special Mention: Simply Smita
Special Mention: Scents of Europe
CATEGORY: Baby + Child
WINNER: Open The Joy
Special Mention: Jack Rabbit Creations
Special Mention: Chewbeads
CATEGORY: Handmade Designer Maker
WINNER: Rustico
Special Mention: Indian + Purry
CATEGORY: Distinctive Living
WINNER: Tightrope
Winners of the Accent on Design® Awards:
Best Booth Design: Fresh Taiwan
Best Product Design Innovation: Blomus
Best Overall Collection: HMM
Accent on Design® 35th ANNIVERSARY AWARDS:
Best Legacy Award: Gallery91
Best New Company: Lara Knutson
Winners of the sustainability:design for a better world® ECO AWARDS
Most Innovative: AMEICO – Brand: SQUIREME
Most Sellable: ROLSER
Most Sensitive Use of Materials: SWAHILI AFRICAN MODERN
Mark your calendar for NY NOW's Winter 2020 Market – February 1-5, 2020 – as the retail renaissance continues with exciting brands and new products plus new onsite experiences and networking events at the NY NOW market.
###
About NY NOW
The winter 2020 edition of NY NOW®, the Market for Handmade, Home and Lifestyle, will take place February 1-5, 2020 at New York City's Jacob K. Javits Convention Center. NY NOW features three comprehensive collections – HOME, LIFESTYLE and HANDMADE – that encompass tens of thousands of products in hundreds of product categories.
NY NOW is owned by Emerald Expositions, a leading operator of business-to-business trade shows in the United States. The company currently operates more than 55 trade shows, as well as numerous other face-to-face events. In 2019, Emerald's events connected over 500,000 global attendees and exhibitors and occupied more than 6.9 million NSF of exhibition space.
Notes To Editors:
The official name of the market is "NY NOW." Please do not use "NY Now," "NYNow," "New York Now," "the NY Gift Show" or the "NY Gift Fair" to refer to the market.
The NY NOW winter 2020 market will take place February 1-5, 2020 with staggered opening and closing dates: HANDMADE Collection: Saturday, February 1 through Tuesday, February 4, 2020; LIFESTYLE and HOME Collections open Sunday, February 2 through Wednesday, February 5, 2020 at the Jacob K. Javits Convention Center in New York City.
The National Stationery Show® will be co-located with the NY NOW winter market in the Javits Center Sunday, February 2 through Wednesday, February 5, 2020.
For high-res images or the NY NOW logo for your coverage, please contact us at meg.estevez@emeraldexpo.com