WHITE PLAINS, NY. – May 19, 2016 – NY NOW®, the Market for Home, Lifestyle + Gift, today announced that the print advertising campaign for its winter 2016 market has been recognized with an Award of Excellence from the Business Marketing Association (BMA), which is part of the Association of National Advertisers (ANA) as part of its 2016 B2 Awards. The print campaign was developed by Eric Mower + Associates.
"It is a thrill to be recognized by the BMA for the winter 2016 event print advertising campaign," said Jill Campbell, Vice President, Marketing, Emerald Expositions. "Working with Eric Mower + Associates, we developed a distinctive campaign that was both new to NY NOW and more reflective of the design innovation the brand represents.   This unique series of ads made our brand leap off the page.  We're excited to continue this campaign to increase awareness about the event to attendees and exhibitors alike."
Enties to the BMA's B2 Awards recognize the most innovative and ground-breaking marketing campaigns from the past year.
"What makes the BMA's B2 Awards prestigious and unique," stated Michael Palmer, GM, BMA, "is that this award program recognizes business marketers who exhibit excellence in results, not just great creative. The entrants have to demonstrate how they have moved the business forward in a meaningful and measurable way."
A record number of companies submitted to the 2016 B2 Awards program, with judges reviewing the strategic aspects of each program. A full list of General Category winners and Award of Excellence recipients can be found at http://www.marketing.org/content/show/id/b2-2016-winners.
NY NOW returns to the Jacob K. Javits Center for the summer market in New York City beginning August 20th and ending August 24th. For more information or to register, visit www.nynow.com.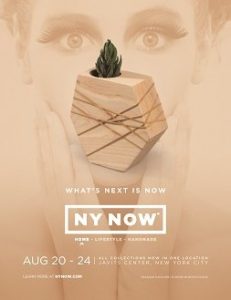 # # #
About NY NOW
NY NOW®, the Market for Home, Lifestyle + Gift, will take place at New York City's Jacob K. Javits Convention Center. NY NOW features three comprehensive collections – HOME, LIFESTYLE and HANDMADE – that encompass 100,000 products in hundreds of product categories. The Handmade® Designer Maker and Handmade® Global Design sections of the HANDMADE Collection will open on Saturday, August 20 and close on Tuesday, August 23. The HOME and LIFESTYLE Collections, and the Artisan Resource® section of the HANDMADE Collection, will open on Sunday, August 21, and close on Wednesday, August 24. Attendees from all 50 states and more than 80 countries worldwide are expected.
NY NOW is owned and operated by Emerald Expositions, a leading operator of large business-to-business trade shows in the United States, producing more than 50 trade shows and over 100 face-to-face events in total, including conferences, summits and other events. Emerald Expositions connects more than 335,000 sellers and buyers each year and operates within the U.S. in 10 end markets (Gift, Home, General Merchandise and Manufacturing; Sports & Apparel; Design; Jewelry, Luxury & Antiques; E-Commerce; Creative Services; Licensing; Healthcare; Military; and Food).
More information about NY NOW can be found at www.nynow.com

MEDIA CONTACT:
Katie Seifert
Coyne PR for NY NOW
973-588-2000
kseifert@coynepr.com