Suzanne Schwartz Jewelry Makes Its Debut at NY NOW 2019
Winter Market
Hand created jewelry inspired by nature
and textiles
Stitched with fine
silver and 22k gold wire. 
Booth #1310 at NY NOW
New York – January 16, 2019 —  Suzanne
Schwartz Jewelry will be making its first appearance at NY NOW SHOW in
New York City from February 3-6, 2019.

Suzanne Schwartz first discovered the freedom art could
bring when her grandmother taught her how to sew and knit. Even as a
child, textiles inspired her with their variety of patterns, textures, and
movement and opened her eyes to art's boundless possibilities.
"I love to explore the flow and
intersection of lines
and to
create texture while finding a balance in the overall
composition of a piece."

As an adult, Suzanne's creative medium moved from textiles
to metals, but the influence of stitching followed, as seen in her
current Interwoven Collections. She loves texture, form, and
intersecting lines, finding inspiration in everything from nature to architecture.
All of these inspire her personal aesthetics and style.
She stitches with gold and silver wire on metal forms,
giving her work a three dimensionality. Stitching is her way of creating
texture in her jewelry.
                                                                                                                                                          
Suzanne's jewelry can be found in galleries and online
stores including artfulhome.com and eclecticartisans.com, Hoadley Gallery,
Form and Concept, and Mia Gemma, to list a few. Her jewelry is frequently
featured in the Artful Home Catalog; one of her pieces was a best selling
item.  Her complete line can be purchased on her website, sschwartzjewelry.com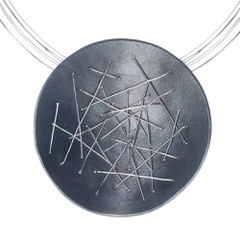 About Suzanne Schwartz
Suzanne
earned her BA degree from Alfred University. She began her professional
career as an urban planner before entering the fashion industry, working
for Eileen Fisher. Following her passion for jewelry, she attended
classes at Parsons School of Design before receiving a degree in jewelry
design from the Fashion Institute of Technology. 
Media Contact: Suzanne Schwartz Jewelry, 917-972-2920
About NY NOW
The winter 2019 edition of NY NOW®, the Market for Home, Lifestyle,
Handmade + Gift, will take place February 3-6, 2019 at New York City's
Jacob K. Javits Convention Center. NY NOW features three comprehensive
collections — HOME, LIFESTYLE and HANDMADE — that encompass tens of
thousands of products in hundreds of product categories. For the first
time, NY NOW welcomes the co-locations of the winter market with the
National Stationery Show® and SURTEX®, which will take place during the
same time, all under one roof and in the same location. Attendees from
all 50 states and nearly 70 countries worldwide are expected.
NY NOW is owned by Emerald Expositions, a leading operator of
business-to-business trade shows in the United States. The company
currently operates more than 55 trade shows, as well as numerous other
face-to-face events. In 2017, Emerald's events connected over 500,000
global attendees and exhibitors, and occupied more than 6.9 million NSF
of exhibition space.
 
NOTES TO EDITORS:
The
official name of the market is "NY NOW." Please do not use "NY Now,"
"NYNow," "New York Now," "the NY Gift Show" or the "NY Gift Fair" to
refer to the market.
The
NY NOW winter 2019 market will take place Sunday, February 3, 2019
through Wednesday, February 6, 2019 at the Jacob K. Javits
Convention Center in New York City. 
The
National Stationery Show® will be co-located with the NY NOW winter
market and will be located on Level 1 adjacent to the LIFESTYLE
Collection. 
SURTEX®
will be co-located with the NY NOW winter market and will be located
on level 4 in the River Pavilion. 
 
For high-res images or the NY NOW logo for your coverage, please contact
us at meg.estevez@emeraldexpo.com.