February 5-8, 2023 | Javits Center NYC
Join us at the New York Gift + Home Show
This Winter 2023
NEW LIKE YOU'VE NEVER SEEN BEFORE
A kaleidoscope of culture. An icon of style. A destination that outdoes itself every time. Whether you're talking uptown sophistication or downtown edge, the New York State of Find is all about what's new — and what you won't find anywhere else. Get a first look at the gift industry's hottest debuts, high-end designs and must-have wares. Go beyond the walls of the Javits Center to truly immerse yourself in the city that serves as a muse for all things style. From hip and sleek to eco-chic and artisan-made to gourmet, the next big things and bestsellers are found here.
Read our Summer 2022 Post-Show Market Report.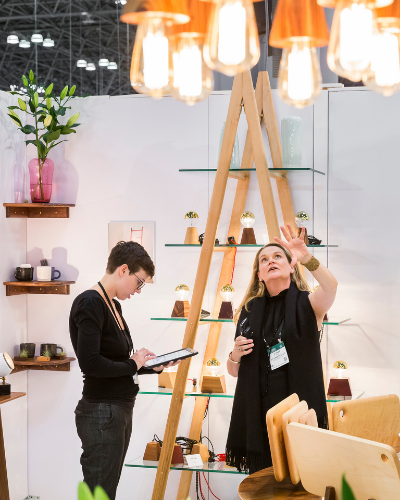 Expose your brand to thousands
of exclusive buyers
A diverse range of buyers.
NY NOW is for qualified buyers only. We are committed to providing you the best platform to build brand exposure, generate leads and write orders. Our Buyer Relations team is working every day to grow and improve the quality of our database. 
Store types in attendance
Hospital Gift Shop 
Pop-Up Store 
Fine Art Gallery 
Book Store 
Children's Store 
Fashion Jewelry 
Clothing and Accessories Store 
Wellness/Beauty Store 
Department Store 
Cart/Kiosk Retailer 
Mail Order/Catalog Order 
Technology Store 
Florist/Garden Center 
Health Food Store 
Furniture/Home Décor 
General Gift Shop 
Gift/Novelty/Souvenir 
Arts/Crafts/Hobby/Toy/Game 
Fine Jewelry 
Luggage/Leather Goods 
Stationery/Party/Paper/Office Supply 
Pet & Pet Supply Stores 
Drug Store/Pharmacy 
Shoe Store 
Gourmet Food 
Sporting Goods 
Grocery/Supermarket 
Thrift Store/Used Goods 
Warehouse Clubs and Supercenters  
Airport Shop 
Corporate Premiums 
Premium Incentives 
Arts & Entertainment Venues 
Museums & Cultural Institutions 
Gym/Fitness and Recreational Centers 
Hotel 
Restaurants and Other Eating Places 
Spas 
Church/Synagogue Store 
What brands + buyers are saying.
We've had a great first day of the show. Lots of people back who we've seen in the past but also a lot of new buyers. It's been busier than our average first day to be honest with you. It's been great. Our first few hours were busier than the first few hours of the NY NOW before.
"Great show – Wonderful to be back in N.Y. Definitely need 3 days."
Always a wonderful energy here! Nothing like NY NOW. Found lots of new products."
As a first-time exhibitor at NY NOW, it was the perfect fit. It's a beautifully curated show and our experience has been so beyond anything I could have imagined. The buyers are here. They're excited, they're looking for new products and they're here to buy! We're writing orders, we're making new contacts and it has been an incredible experience. We are ready to sign up for the Winter market!
"NY NOW – Wow! Have been coming here for many years now. Loved how you have rearranged the floor. Feels more welcomed! Much more personal booths."
The show was incredible. I almost ran out of order writing paper!
Ashley Ciofrone
Handmade Global Design, Handmade Designer Maker, Artisan Resource, IndieNow

Francine Rich
Accessories and Luxury Lifestyle
Desiree Weissgerber
Customer Success Manager
Stephanie Gaspari
Gift + Stationery, Baby + Child, Museum Neighborhood, and GCA Village

Kim Cook
Beauty + Wellness

Kristen Brady
Business Development Manager
Zoe Maliszewski
Home Design, Tabletop, and Accent on Design

Joseph Woo
International Business Development Director

Indira Franca
Director International Business Development