Whether you're a first-time exhibitor or a seasoned pro, this page offers a wealth of information, tips, and insights that will help you make the most out of your NY NOW experience. From pre-event planning to post-event follow-up, we've got you covered with tons of valuable content, including marketing and branding resources, booth design and merchandising tips, social media strategies, and so much more.
We're committed to helping you achieve your business goals, and we're excited to partner with you on your journey to success at NY NOW Summer 2023. Let's make this a game-changing event for your brand!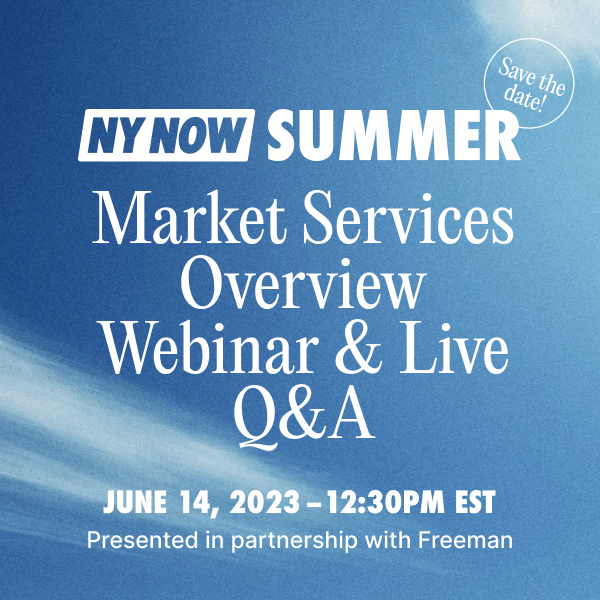 NY NOW Summer 2023 – Live webinar: Show Services and Q&A
DATE: Jun 14, 2023 12:30 PM ET
This webinar will provide an overview of Show Services for the NY NOW 2023 summer market. Presented in partnership with Freeman, we will cover all the information you need to prepare for the event and to answer your questions. It's also a great opportunity to get to know some of the NY NOW team members and connect with other exhibitors! We hope to see you June 14th and we can't wait to meet you all in person this August!
These are a few of the key takeaways from the webinar:
1- Accessing your online resources
2- Show services overview
3- Shipping and material handling
4- Important show information
5- On-site tips
6- Q&A
Click HERE to RSVP
FOR FIRST-TIME EXHIBITORS
Watch this brief video for great budgeting tips when planning to exhibit at NY NOW.
Understanding the GSC Role
Watch this video and learn tips on understanding the General Services Contractor role.
Welcome First-Time Exhibitor Program
This video provides a high-level overview of the First Time Exhibitors program and what to expect
Your First 4 Steps for Success
Once you have confirmed your booth, here are some things you need to do to begin planning it.
RESOURCES FOR ALL EXHIBITORS

 
How to Generate a New Revenue Stream in the World of Corporate Gifting
Part three of this compelling 4-part webinar series hosted by Luxury brand expert and Educator, Marilisa Barbieri.
Session 3 – Designing a corporate gift collection: The Product Offer
Focus:
• Reframing existing products
• Choose the occasions and recipients
• Personalized B2B gifts
• Q&A
BONUS Decision Matrix
Balancing People, Planet and Profit: Integrating Generosity into Social Impact-Driven Brand Stories
The International Social Impact Institute series Part 2
Hosted by Liz Ngonzi, Founder & CEO of The International Social Impact Institute.
Moderator: Dondrill Glover, Sr. Content Producer + Sr. Buyer Relations Strategist.
During this session participants will work to determine which part(s) of the social impact equation — People, Planet and Profit – integrating into brand mission statements. Participants will generate mission statements and organizational social impact stories using The International Social Impact Institute's Impact Story Development Framework
Booth Display and Show Set-Up – Tips and Best Practices
Join Host – Helen Joffe, Rising Artisans and Handmade Consultant as she shares key tips and best practices when setting you your booth and displaying your products.
New Exhibitor Webinar for NY NOW Summer 2022
Join the NY NOW team to learn more about the tools and resources available to you to have a successful exhibiting experience at the Market!
You'll hear from Operations Director, Mike Edson, and Customer Success Manager, Desiree Weissgerber, tips and tricks that they've learned over the years with their combined four decades of experience working in the trade show industry.
You won't want to miss this informative webinar!
How to have success at a Wholesale Show – Part Two
Part Two of this educational Live Webinar Series with Diane Sulg, Executive Director of CRAFT​
Topic: Selling success at the Tradeshow
This live session will cover Booth Must's:
– Lighting
– Eye-catching Color (examples)
– Organization
– Place to 'do-business'
– Storage + seating
– Booth materials for doing business (examples)
– Booth protocol
– Post Show essential tactics
How to generate a new revenue stream in the world of Corporate Gifting – Session 2
Session two: Art of Business Gifting Presentation.
In part two of this compelling webinar series, learn about clients key priorities when shopping for corporate gifts:
• Form vs Function, Size, weight, personal note cards
• Packaging for the delivery
• The Delivery and unboxing experience
• Price range and Volume discount
• Timed arrival dates
• Contract Pricing
• Samples – Case Study: Las Vegas Casino gifting requirements
• Q&A
BONUS WORKSHEET
How to have success at a Wholesale Show
NY NOW two-part Live Webinar Series with Diane Sulg, Executive Director of CRAFT​
SESSION 1 – How to have success at a Wholesale Show… and FUN doing it!​
This live session will cover:
Why Exhibit at a tradeshow​
What is your tradeshow goal
How to achieve it​
Product line review
How to get your pricing right​
Understanding Retailer pricing
How retailer prices impacts YOUR retail prices​
Line sheets, minimum orders, shipping
…and so much more.gs.
How to generate a new revenue stream in the world of Corporate Gifting Pt 1
Learn about the lucrative world of Corporate Gifting and gain tactical insights into how you can expand your business into this specialized channel with this four-part webinar series hosted live by luxury brand expert and educator Marilisa Barbieri.
Session 1 – Understanding the luxury corporate gifts business includes:
• What are corporate gifts
• Why the gifting strategy become a priority for companies during and after the pandemic
• Why they can be additional revenue for your business
• What you need: The business model
• Case Study: Montblanc
• Q&A
Growth Opportunities for Luxury Brands in Corporate Gifting
The pandemic changed the game of corporate gifting from simply a routine to a business priority. Learn in this webinar insights on how luxury brands tap into this business opportunity by developing dedicated product collections and cultivating strategic relationships with key players.
Case Study
Why luxury brands embrace Chinese New Year celebration within the corporate gifting strategy
Bonus
10 tips to succeed in the Corporate Gifting Business
Marilisa Barbieri Bio
A luxury business expert with an MBA and Interior Design & Arts degree, Marilisa Barbieri helps companies elevate their brand value and increase sales of products and services by revealing proven sales strategies employed by top luxury brands. She has worked with French and Italian luxury companies to achieve consistent growth and profitability. As a business consultant, Marilisa instructs a number of courses and programs to guide clients through structured business plans and ad-hoc digital branding. Visit www.marilisabarbieri.com to learn more.
How to get your best ROI at the NY NOW Market!
Join Tradeshow Bootcamp Founder and industry expert Katie Hunt for a live webinar sharing key steps you should be taking right now to prepare for a truly successful NY NOW Winter Market and optimal ROI! Katie will share valuable insights on how to sell wholesale and get your products on the shelves of retail shops. She will also cover best opportunities to optimize pre-event exposure as well as a great on-site experience, and post show follow-up. This webinar is for all exhibitors, especially new and emerging brands, and first timers to NY NOW.
Balancing People, Planet and Profit: Developing Social Impact Driven Brands
Join us as we welcome Liz Ngonzi, Founder & CEO of The International Social Impact Institute and Adjunct Assistant Professor at The Center for Global Affairs at New York University, as she presents Balancing People, Planet and Profit: A mission-driven 3-part series to inspire and activate buyers and exhibitors to integrate social impact into how they run their businesses, and into their decisions regarding those with whom they conduct business, how and where they source their products, and the philanthropic efforts in which they engage.
Our first session will expose participants to the full spectrum of social impact that balances people, planet, and profit, using case studies from multinational and small-scale brands worldwide with a grounding in #GivingTuesday — the global generosity movement. A framework for assessing social impact will be introduced along with a tool that will enable participants to communicate their mission and commitment to social impact. Join us Monday, November 22 at 2:00 PM EST. Click the link in the bio to reserve your spot now!